---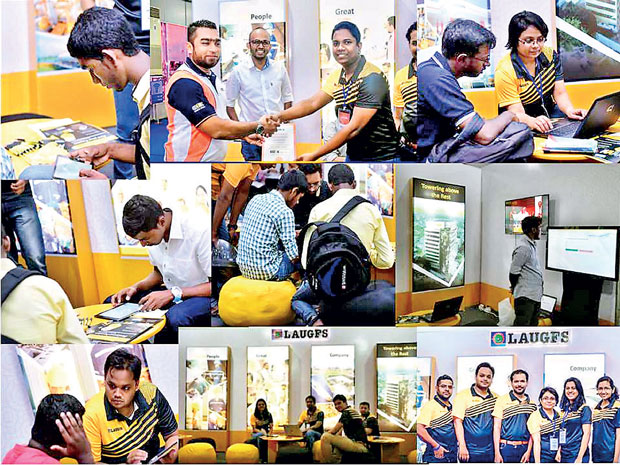 Laugfs Holdings was announced winner of 'Best Stall Representation' at the EDEX Job Fair 2017 held at BMICH recently.
Having participated for the 3rd consecutive year, Laugfs Holdings emerged the winner from among many leading organizations that took part in the EDEX job fair.
EDEX Expo Education Exhibition and Job Fair is Sri Lanka's largest higher education and careers exhibition conducted by the Royal College Union (RCU) in collaboration with the government of Sri Lanka. Providing much value to both students and parents, the exhibition which is held twice a year, is in line with the government's vision for the youth of our nation.
Laugfs Holdings initiated the stall with the intention of creating brand awareness and visibility while building a pool of talented candidates to serve the diversified group. This initiative was a part of a series of talent acquisition programmes developed under the Laugfs' HR vision to 'make Laugfs a great company, building a great team'. The Laugfs stall marked a unique approach in connecting with the audience at EDEX Expo and gave a glimpse of the work environment and the great opportunities the youth would be able to acquire in stepping into their professional careers with the company. Many young candidates visited the Laugfs stall to explore opportunities in achieving their career dreams and learn more about potential career options.
"We are honoured to be a part of the EDEX job fair 2017 and we take great pride in educating the youth of the country on potential career options and to help them make their professional dreams a reality. This is our third consecutive year at EDEX Expo and our company made a benchmark this year in emerging as the winner of 'Best Stall Representation'.
Laugfs is the best place to start a promising career. We have already established ourselves as a leader and pioneer in the power and energy, retail, industrial, services, leisure, logistics and the real estate sectors in Sri Lanka and beyond. So there are an abundance of great opportunities for young talents. We believe in team spirit and equal opportunities. So join us and we will help you make your dream a reality," expressed Dulani Nissanka, Group Chief Human Resource Officer at Laugfs Holdings.