---
In a rather surprising move, Laugfs Holdings Chairman W.K.H. Wegapitiya, yesterday bought little over 27 million shares or approximately 6 percent stake in the mid-sized bank, Pan Asia Banking Corporation PLC, in a deal worth over Rs.500 million.
"I have purchased for myself initially but eventually it will come under Laugfs," Wegapitiya told
Mirror Business.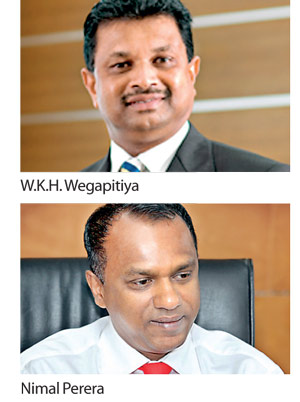 "We have been looking very seriously at banking and financial services because we have a lot of internal synergies. Laugfs had a small financial company we bought from Softlogic in the past before the Central Bank policies forced small companies to merge.
We have an appetite towards financial services. It has been in our radar for some time," he stressed.
The seller of the majority of the shares was Nimal Perera, the former Chairman of Pan Asia Bank and one-time de facto fund manager of business tycoon, Dhammika Perera, the single biggest shareholder of Pan Asia Bank.
The duo acquired a number of top listed and privately held business houses in the country riding on the post-war economic boom, before they decided to officially part ways this March, amid speculation of a massive fall-out. Nimal Perera told Mirror Business that he sold about 25 million Pan Asia Bank shares at
Rs.20 yesterday.
As at December 31, 2016, Nimal Perera held about 15 million Pan Asia Bank shares accounting for little over 5 percent of the issued shares of the company.
However the bank recently raised Rs.2.1 billion through a 1 for 2 rights issue priced at Rs.14 per share, which Nimal Perera had subscribed to. Subsequent to the rights, Pan Asia Bank has 442.6 million shares in issue.
"I don't think I made a capital gain out of this sale as I bought the shares in 2014 at Rs.23-24 each. Even with the rights, my average cost comes to about Rs.21 a share. So I may have lost about Rs.25 million," Nimal Perera said.
Pan Asia Bank share yesterday closed at Rs.19.80.