---
Laugfs Corporation (Rubber) Ltd (Laugfs Rubber) recently unveiled the latest addition to its product portfolio with its Super Solid Loader Grip Tyre, the largest tyre to be manufactured in Sri Lanka.

Laugfs Super Solid Tyres are designed with extra deep tread and robust lugs to provide traction and durability for tough off-the-road applications on construction equipment like telehandlers, wheel loaders, excavators, under severe service conditions.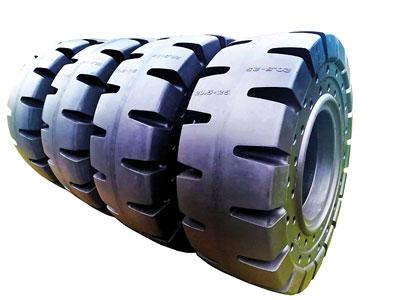 Commenting on this remarkable event, Laugfs Corporation (Rubber) Ltd Chief Executive Officer Thomas Antony stated, "At Laugfs Rubber, we take great pride in being the manufacturers of the largest tyres being made in Sri Lanka. Only a few manufacturers around the world produce such tyres as the production of tyres of this scale and strength requires advanced design capability and manufacturing technology, along with high-tech equipment.

The Laugfs Super Solid Loader Grip Tyre is the latest addition in a unique range of construction solid tyres offered by Laugfs Rubber. These tyres are made to order for wheel loaders in the construction industry and offer long-lasting durability and superior traction, especially in rough off road conditions."

With rubber being a key natural resource and economic export crop in Sri Lanka, Sri Lanka has been able to become a significant player among global rubber exporters.

Identifying the business potential in this lucrative industry, Laugfs Holdings diversified into the rubber industry through Laugfs Corporation (Rubber) Ltd, with a specialised focus on industrial solid tyres.

At present, Laugfs Rubber supplies tyres to customers in over 30 countries, including those in the United States and Europe. The company boasts of a state-of-the-art and environmentally friendly manufacturing facility, which generates 40 percent of its energy requirement through solar panels.

This facility uses the finest quality rubber compounds and the globally recognised Total Quality Management (TQM) processes to produce REACH-compliant, solid tyres of international standard.
With a strong commitment to quality and environmentally sound manufacturing practices, the company has received the ISO 9001–2015 certification for policy management, ISO 50001-2011 certification for energy management and ISO 14001–2015 for environment management.