---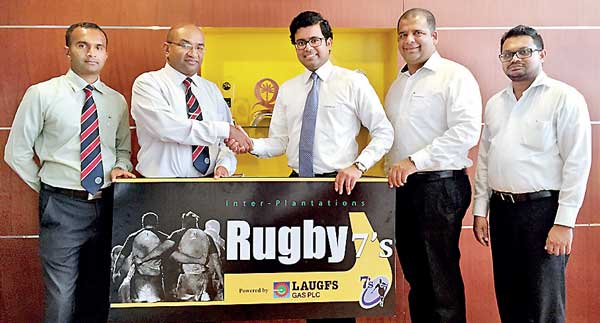 Official handing over of the three-year sponsorship by Laugfs Gas PLC to Dickoya MaskeliyaCricket Club
Laugfs Gas PLC has reaffirmed its pledge to uplift and strengthen the lives of estate sector communities by committing to a substantial three-year sponsorship of the Dickoya Maskeliya Plantations Rugby Sevens from 2016. As part of its longstanding 'Wathu Praja Divinagum Sathkaraya' community project,
Laugfs Gas has been engaged with the plantation communities over the years, driving a number of remarkable programmes to uplift their living standards. The Rugby Sevens sponsorship comes as another extension of these efforts, by further strengthening the partnership with respective plantation managements.
The Inter-Plantation Rugby Sevens tournament organised by the Dickoya Maskeliya Cricket Club (DMCC) has been an annual event for 16 years and carries much historical significance, being one of the oldest rugby fixtures in Sri Lanka.
The club was founded in 1868 and is a significant focal point in planter communities, functioning as an outlet for social and sporting events. The tournament will be underway this year at DMCC on April 9 and is expected to draw in large crowds of spectators together with representatives of each plantation through the regional plantation management. Laugfs extends its support to the tournament as the exclusive main sponsor.
"Laugfs Gas has been closely engaged with the plantation sector communities over the past three years to uplift their lives through a number of community and livelihood development projects, driven in partnership with the Plantation Human Development Trust (PHDT) and government officials. Our commitment to sponsor the DMCC Rugby 7s will help further solidify this relationship and will enable us to continue to make a positive change in their lives," commented Laugfs Gas PLC CEO Ashan De Silva.
The three-year sponsorship of the DMCC Rugby 7s is a commemoration of the ongoing community development and engagement programmes driven by Laugfs Gas among the estate sector families and community. The Wathu Praja Divinagum Sathkaraya has been initiated and funded by the company to improve and enhance the living standards of plantation communities by addressing critical social, health and environmental issues that revolve around the community lives.
It has also focused on raising awareness on numerous environmental concerns, health risks and safety issues arising from the use of firewood for cooking, including health issues resulting from inhalation of smoke as well as various dangers encountered by women and children when collecting firewood. Initiatives have further been taken to provide estate sector families with better access to LPG as a cleaner, safer and more economical alternative to firewood with affordable payment schemes