---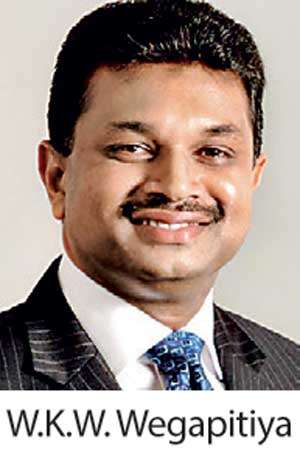 Laugfs Gas PLC, Sri Lanka's only private sector cooking gas player, narrowed its losses during the quarter ended June 30, 2018 (1Q19) as the group's energy business made gains despite the administered prices on LP gas getting replaced by a price-reflective formula. Laugfs Gas in March spun off its non-core interests in leisure, power and vehicle emission testing businesses to pitch itself as a pure-energy player as those sectors were weighing on the core business of distributing LP gas.
The company for the April-June quarter reported a loss per share of 64 cents or Rs.247.5 million net loss compared to a loss per share of Rs.1.31 or Rs.455.8 million net loss reported for the corresponding period last year The revenues rose by a strong 27 percent year-on-year (YoY) to Rs.5.7 billion and reported an operating profit of Rs.232.6 million against the loss of Rs.224.2 million reported for the corresponding quarter last year.

But the finance cost rose by 17 percent YoY to Rs.438.5 million as Laugfs borrowed heavily to fund expansions, both here and overseas, which are yet to make a positive contribution to the bottom line.

The company's share is at a record low and last week it ended 10 cents higher at Rs.15.10.

Meanwhile, the administered LPG prices also kept the company from increasing selling prices, resulting in further borrowings to fund the day-to-day working capital needs.

By the end of June 30, 2018 Laugfs had Rs.13.1 billion in long-term borrowings and Rs.7.9 billion in short-term borrowings, up from Rs.5.2 billion on March 31, 2018.

"It is pertinent to mention that as a result of the company's core business of LPG downstream activities having to continue under the prevailing retail price restrictions whilst LPG prices in the global market are surging, has resulted in the finances for this quarter recording a loss", said Laugfs Group Chairman W.K.H Wegapitiya in an earnings release.

However, the segmental results show that the group's energy business, both here and overseas, had made top and bottom line gains for the quarter under review. Wegapitiya has been lobbying hard for an introduction of a cost-reflective LPG pricing formula for years and last week his efforts became fruitful as the government announced it would introduce a new formula in calculating gas prices soon.

"In order to effectively address this situation, which we believe is temporary, the company is in a continuous dialogue with the relevant regulatory authorities in order to ensure that LPG retail prices are in line with global LPG market prices, so that the company's main source of revenue is secured.

We are confident that we will receive a positive response in this regard very soon", Wegapitiya said.

Anyhow, the commencement of the US $ 80 million LPG import-export terminal at Hambantota port remains crucial to the group as it is projected to bring heavy cash flows to the group.

The project was originally scheduled to commence operations April, this year, but faced hurdles after Chinese took over the Hambantota port on a long-term lease.
Wegapitiya however expressed his optimism of commencing the project soon after resolving the remaining issues. Meanwhile, the group's transport and logistics business reported a net loss of Rs.16.6 million from a profit of Rs.83.8 million a year ago as the top line weakened.

Laugfs trading operations were able to cut net losses to Rs.54.8 million from Rs.74.8 million a year ago and the revenues rose sharply from Rs.518.1 million to Rs.2.2 billion.

As of June 30, 2018, Employees' Provident Fund (EPF) had 17.28 percent of Laugfs voting shares being the second largest shareholder. EPF is also the single largest shareholder of non-voting shares with 34.69 percent stake.