---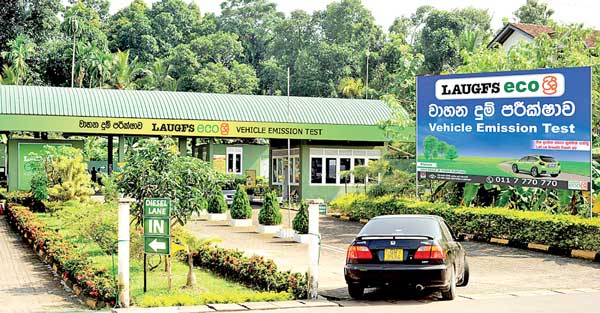 Laugfs Eco Sri recently co-sponsored the 6th National Symposium on Air Quality Management, which was jointly organized by the Ministry of Mahaweli Development & Environment, Air Resource Management Center and the University of Moratuwa.

Held at Waters Edge, Battaramulla, the event was graced by President Maithripala Sirisena as the Chief Guest, together with many dignitaries including Susil Premajayantha, Minister of Science, Technology and Research and Anura Priyadarshana Yapa (Minister of Disaster Management). A number of foreign delegates representing donor agencies as well as UN envoys were present as well.
Addressing the gathering, President Maithripala Sirisena most fittingly called for firm decisions to be made towards facilitating environment conservation and protection in creating a sustainable future. The first copy of the action plan for clean air in 2025 was also presented to the President during the event.
A representative of the Vehicle Emission Testing Program addressed the gathering and noted that the progress of the VET project in Sri Lanka, which was initiated in 2008, and the many benefits it has yielded. He cited Sri Lanka's VET program as one of the best compared to similar initiatives carried out within the region, and further stressed the importance of adopting even more stringent standards in setting a benchmark for the region. The current VET standards adopted in Sri Lanka is equivalent to a Euro 2-3 standard levels and is set to progressively improve, driven by ambitious targets set by the government. He further highlighted the need for continuous development in the program, which is currently operating as a Public-Private Partnership where two companies – Laugfs Eco Sri and Clean Co Lanka are acting as the authorized Vehicle Emission Testing service providers, operating over 200 test centers island-wide collectively.

Presenting at the symposium, Muditha Thebuwana, Head of Business Development of Laugfs Eco Sri Pvt Limited referred to the many social benefits of the vehicle emission program, including health hazard mitigation and the growing environmental consciousness among the public. She drew attention to various research studies conducted in this area and remarked that a significant correlation has been found between the number of patients arriving for OPD units in Colombo for nebulization, and the readings of particulate matter monitored in the Colombo City. "This is clearly indicative of the fact that many respiratory deceases such as asthma can be reduced through effective indoor and outdoor air quality management" she said.

Under the theme "Air That We Breathe", this year's two-day symposium brought together many eminent experts in varying disciplines of air resource management. It aimed to provide a forum to present and discuss the most recent technological, scientific and policy developments associated with management of air pollution and air resources. The technical sessions over the two day period covered presentations and studies presented in a number of critical topic areas related to air quality management, including Urban and Regional Smog and Visibility Degradation, Policies and Economics of Air Pollution Preliminary Programs and Air pollution Science & Control Technologies.