---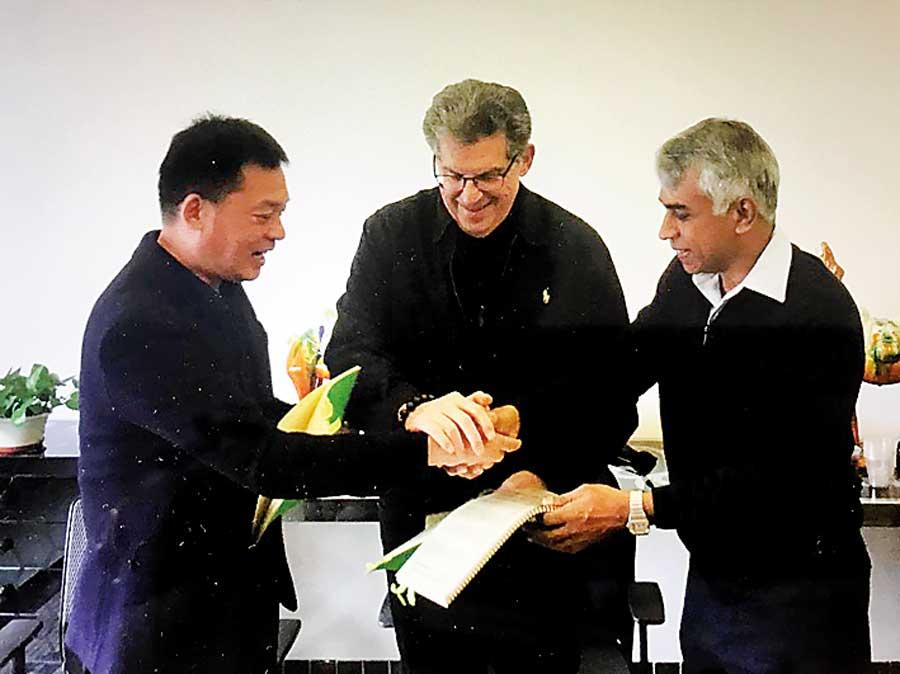 From left: Foshan Shiwan Yulong Ceramic Co. Ltd Managing Director Liang Yu, North American Market Representative Benjamin Mallory and Lanka Walltiles Group Mahendra Jayasekera
Lankatiles is targeting the North American market with its latest venture to manufacture mosaic tiles with the technical know-how from Chinese mosaic tile manufacturer, Foshan Shiwan Yulong Ceramic Co. Ltd.

This collaboration also involves North American counterpart – Benjamin Malloy as it would be the key market for this product.

According to Lankatiles, North America has high demand for mosaic tiles.

Lankatiles is a well-established brand in North America for more than 40 years and the company is familiar with the intricacies of the market there, which will make it easier to target exports of mosaic tiles to specific buyers.

"Lankatiles has been on an aggressive expansion drive over the past few years. Our entry in the mosaic tile category has led us to collaborate with a Chinese mosaic tile manufacturer to gain the necessary expertise to manufacture mosaic tiles in Sri Lanka and to export to North America and other countries," Lanka Walltiles Group Managing Director Mahendra Jayasekera said.

This new manufacturing capacity will not only generate valuable employment opportunities, but will also add a new dimension to the company's reputation as a world-class tile manufacturer and fill product gaps in the market.
We foresee immense export opportunity for mosaic tiles to North America and other countries and believe this collaboration will truly help the company unlock its potential," he added.
Lankatiles' tie-up with a China's Foshan Shiwan Yulong Ceramic is an opportunity that has arisen as a result of the US-China trade war.

The company is already exporting to 12 countries including high quality markets such as USA, Australia, New Zealand, Japan, Canada and certain countries in the European Union.

In the company's most recent expansion, more than 6,000 square metres of production capacity was added at a cost of Rs. 2.5 billion, at its factory complex in Ranala.