---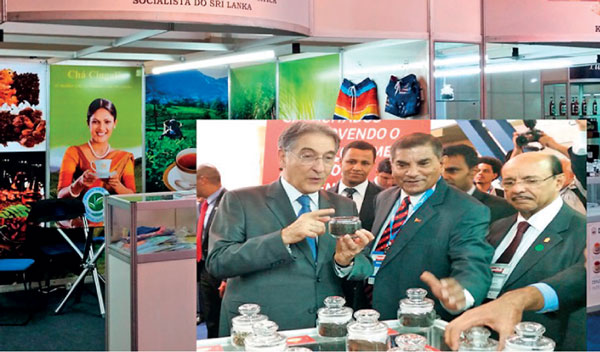 Sri Lanka stall and (inset) Minas Gerais State Governor Fernando Pimentel inspecting a tea sample in the presence of Sri Lanka Ambassador to Brazil General Jagath Jayasuriya
The 30th edition of the SuperMinas Food Show was held recently at Expominas Exhibition Centre in Belo Horizonte, the capital of the State of Minas Gerais of Brazil, where Sri Lanka had its very own stall exhibiting its products, which attracted many visitors during the three-day fair.

The Sri Lanka Embassy in Brazil in collaboration with the Sri Lanka Export Development Board organised the first-ever Sri Lanka participation at this prestigious show, which was held from October 18 to 20. The fair has a remarkable track record as one of the leading business-to-business (B2B) platforms for supermarket food products.

Minas Gerais State Governor Fernando Pimentel declared open the Sri Lanka pavilion. Speaking to the gathering rallying around the Sri Lanka pavilion, the governor said that unique Sri Lankan products will certainly meet the quality sought by the upper-end consumers in Minas Gerais. The State of Minas Gerais is the third largest economy in Brazil with a gross domestic product (GDP) of over US $ 207 billion and has an affordable consumer base, whose per capita is over US $ 10,130.
"Though Brazil is predominantly a coffee drinking country, there is a promising demand for tea, especially from health-conscious young generation," said Sri Lankan Ambassador to Brazil General Jagath Jayasuriya at a business gathering held on the sidelines of the trade show.
He described SuperMinas as an excellent opportunity to enter the huge market of Minas Gerais, which has a population of over 20.8 million.

General Jayasuriya further stated that the embassy is now planning to organise Sri Lanka participation in the renowned APAS Trade Show to be held from May 2-5 in 2017 in Sao Paulo, the biggest metropolitan city of Brazil.

The assortment of Ceylon tea, spices, specialty food, porcelain, rubber products, apparel and fish flies displayed at the exclusive stall organised by the embassy was attracted by many leading regional supermarket chains in the State of Minas Gerais.
The APAS Trade Show, which is organised annually by the Sao Paulo Super Market Association (APAS), is said to be one of the biggest supermarket trade shows in the world and the biggest in Latin America.