---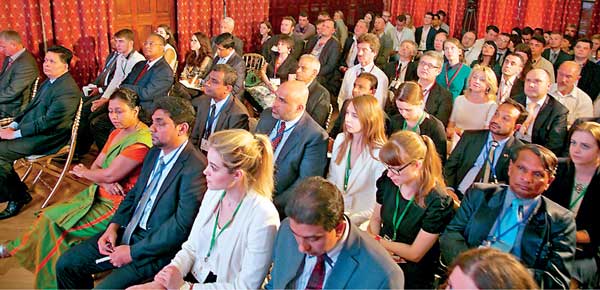 Sri Lankan and Russian participants at the event
Embassy of Sri Lanka in the Russian Federation completed yet another successful event recently by connecting Sri Lanka's previous stone industry with the Russian gem and jewellery industry.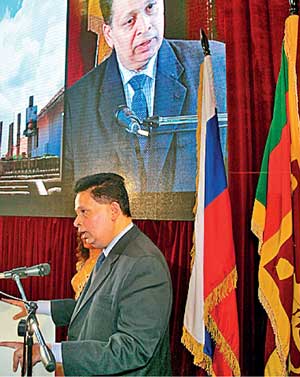 A Sri Lanka gem and jewellery delegation to the Russian Federation was organised by the Embassy of Sri Lanka and networking session was held at the residence of the Embassy of Sri Lanka with the able guidance of the Ambassador f Sri Lanka to the Russian Federation, Dr. Saman Weerasinghe.

At the inauguration of the networking session, the ambassador welcomed all the participants and thanked them for their keen interest in attending the networking session organised by the embassy.
He further mentioned that this is one of the first steps that the embassy had ever made in the history to promote Sri Lanka's gem and jewellery sector and said he intended to continue their support in future for mutual benefit. The event was attended by Sri Lanka National Gem and Jewellery Authority Chairman Asanka Welagedera, Export Development Board Sri Lanka Director Chitranjali Dissnakyake.

Over 60 Russian gem and jewellery industry representatives, Russian Chamber of Commerce officials met with the nine Sri Lanka's top most gem exporters.

The Sri Lankan companies participated at the event was, Ellawala Exports, Priyantha Gems, Punsiri Gems, Gem Paradise, Mushan International, Now Gems, Mincraft Company, Kamil Fine Gems and New World Gems. In addition to the networking session, the embassy organised meetings with the Chamber of Commerce and Industry of the Russian Federation and the Federal Customs Service.
The objectives of the meetings were to identify the customs procedures, the rules and regulations that the Russian Federation imposed in importation of the gems.

The federal customs service of the Russian Federation informed the possibility to discuss the facilitation of the gem and jewellery sector under the proposed Custom Corporation Agreement, which is to take up during the next Sri Lanka Russia Joint Commission Meeting to be held in Sri Lanka this year.