---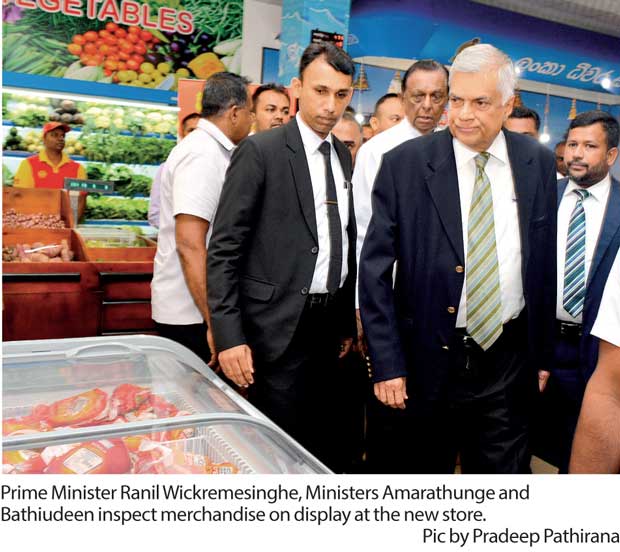 State-owned Lanka Sathosa shopping chain has dramatically ascended to become the largest retail player in Sri Lanka, beating all other local supermarket brands unmistakably.

"Lanka Sathosa now stands as Sri Lanka's largest retail shopping chain," said Industry and Commerce Minister Rishad Bathiudeen, launching the first mega model outlet of Lanka Sathosa at Welisara yesterday.

"We are commencing the first ever mega model outlet of Lanka Sathosa here today, thereby launching Sathosa's mega outlet series. We thank Unilever Sri Lanka for their support given to revamp the previous Welisara outlet to create the first mega model outlet here. We are planning another 25 such new mega outlets this year, and they are coming up with the support of private sponsorships and not from public funds" said Minister Bathiudeen, and added: "In fact, as we meet here today two other Ministers are also launching two Lanka Sathosa outlets in Badulla district at this moment, and I am pleased to say that together with all the three outlets launched, our network of branches has arrived at a total of 400 as of today, and Lanka Sathosa now stands as Sri Lanka's largest retail shopping chain.

"We are transforming Lanka Sathosa from a loss-making service institute to a marketing-based, profit- oriented model so that it can serve our consumers without being a burden to our public funds. In fact I am pleased to say that we have commenced many cost control initiatives and as a result saved significant funds last year. We also launched many promotional campaigns with reputed Sri Lankan companies to increase sales turnover which has greatly helped Lanka Sathosa to increase its revenues. As a result today I am happy to say that our monthly turnover has almost doubled and in December 2017 our turnover was Rs 3.2 billion."

Minister Bathiudeen was joined by Prime Minister Ranil Wickremesinghe, Minister John Amarathunge and Chairman of Unilever Sri Lanka Carl Cruz.

"Lanka Sathosa has seen great growth and I praise Minister Bathiudeen for this achievement" said Prime Minister Wickremesinghe.

"The government wants to give essential goods at most reasonable prices to the consumers.

We have not deviated from this and in fact, implementing it. Lanka Sathosa is playing the great role of lowest price setter in local retail market, and helps government in its consumer support role," he added.
In its quest to expand further in to rural areas, Lanka Sathosa plans 8000 franchised outlets partnering with privately owned MSME shops across the country and has already started registration of qualifying MSMEs. The present Lanka Sathosa network of 400 is scheduled to be expanded further- so that when it celebrates its 70th anniversary in 2019, the network shall total 500 branches-along with a bigger monthly turnover. Lankan FMCG sources said that the second largest privately owned supermarket chain after Lanka Sathosa has only around 240 outlets.