---
Former Amaya Resorts and Spas Managing Director and Hayleys Head of Leisure Sector Lalin Samarawickrama, who relinquished his executive duties in March 2019, dispersed of his shareholding of 10 percent in the company, after almost two decades with them.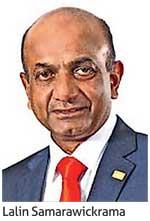 Having led the Hayleys leisure sector for several years, Samarawickrama was largely instrumental in strategically developing the Amaya properties to create a niche in the industry.
With his extensive knowledge and expertise in the hospitality trade, he brought in the necessary results to keep the group afloat, especially throughout the challenging conflict era faced by the tourism industry. Samarawickrama, with his dedicated team, was able to take the Amaya brand to great heights during the post-conflict period.

Samarawickrama, who remained on the board of Amaya as a Non-Executive Director, has relinquished his position on the board, having disposed of his shareholding.