---
Lakshman Consolidated Company (Pvt.) (Ltd) recently partnered with India's Ashok Leyland as an authorised Ashok Leyland spare parts seller, opening up a world of opportunities for Sri Lanka's Ashok Leyland bus, lorry and tipper truck owners.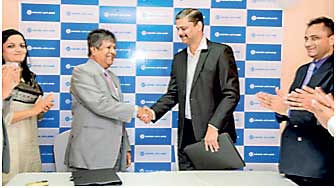 Lakshman Consolidated Company is a subsidiary of Lakshman Group of Companies, one of the première Sri Lankan importers of Indian and Japanese
spare parts.
With four decades of reputation excellent service, Lakshman Group of Companies has been recognized as a reliable service provider by local vehicle owners and maintenance outlets.
Present at the event were Ashok Leyland India Spare Parts Division Head Sanjeev Kumar, Lakshman Group of Companies Chief Executive Officer Umesh Gautham, executive members of Ashok Leyland and Lakshman Group of Companies Chairman Lakshman Kottage.
With the momentous partnership, Sri Lanka's customers get the opportunity to purchase Ashok Leyland spare parts through a reliable company at an affordable price. With an islandwide distribution network and record sales, Lakshman Group of Companies will be taking yet another step forward towards providing an excellent service to its customers.