---
LOLC International Private Limited, a wholly owned subsidiary of Lanka Orix Leasing Company PLC (LOLC), together with Hong Kong's largest independent bank, The Bank of East Asia Limited (BEA), have acquired the majority stake in PRASAC Microfinance Institution Limited, Cambodia's largest micro lender with an asset base of US $ 1.3 billion.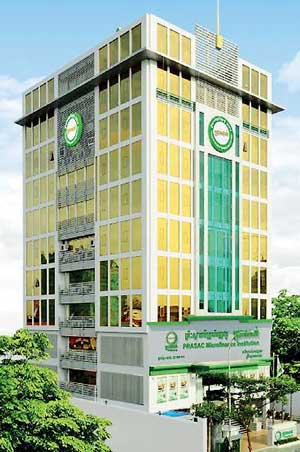 LOLC International Private Limited, a company based in Singapore last week bought 47.75 percent stake in PRASAC in a deal valued at US $ 186 million taking its total stake in the company up to 70 percent.
The sellers of the shares were Belgian Investment Company for Developing Countries SA (BIO), Dragon Capital Group Limited (Dragon Capital) and Nederlandse Financierings-Maatschappij voor Ontwikkelingslanden N.V. (FMO).
The balance shares of PRASAC are held between BEA and P.S Company Limited—PRASAC Staff Company Limited— each holding 21 percent and 9 percent.
LOLC entered Cambodia, an East Asian nation with a low income earning population of 16 million by acquiring 22.5 percent in PRASAC in 2006, making its maiden overseas investment.
"We saw great potential in PRASAC from the outset, and it was therefore LOLC group's maiden overseas investment.
"We would like to convey our appreciation to the outgoing shareholders for their contribution and look forward to working closely with BEA and the PRASAC management in fulfilling the shared goal of elevating and empowering micro entrepreneurs to create a sustainable, inclusive economy in Cambodia," LOLC Group Deputy Chiarman Ishara Nanayakkara was quoted in a statement released by LOLC.
With this acquisition, PRASAC now has plans to diversify its business and transform into a licenced commercial bank in the near future, the
statement added.
PRASAC was established in 1995 as a credit provider involved in financing to rehabilitate the agriculture sector in rural Cambodia. During its last 10 years, the company has grown its asset base from US $ 37 million to US $ 1.3 billion.
Cambodia's per capita income is just over US $ 1,000 but the economy is growing at 7.0 percent, the highest by an East Asian nation and is projected to grow at 6.9 percent through 2019 by the World Bank. Based on 2015 data, Cambodia has an economy of US $ 18 billion (one fifth of Sri Lanka's economy).
These statistics offer significant space for finance providers, particularly the micro and SME lenders, to fund agriculture and emerging industries to lift the population from the current low income earning category.
Hence Cambodia has significant upside for LOLC, which has been seeking regional expansion opportunities as the domestic growth is fast approaching a saturation point.
Sensing this upside, LOLC group made its second investment in Cambodia, acquiring 60 percent stake in Thaneakea Phum Cambodia (TPC), for US$ 20.3 million in 2014.
TPC is the fifth largest micro lender in the East Asian nation with an asset base of US $ 244 million and 71 branches.
Making further foray into the East Asian region, in 2013, LOLC commenced operations in Myanmar and set up LOLC Myanmar Micro-Finance Company Limited as a green-field operation.
It appears that LOLC Group has now set its eyes on becoming a regional player in the microfinance business.
Commencing operations as a pure leasing company in Sri Lanka in the 80s, LOLC has now become a financial services behemoth with diversified interests in agriculture and plantations, leisure, renewable energy, construction, manufacturing and trading.
It also has strategic investments in healthcare, information technology and banking.