---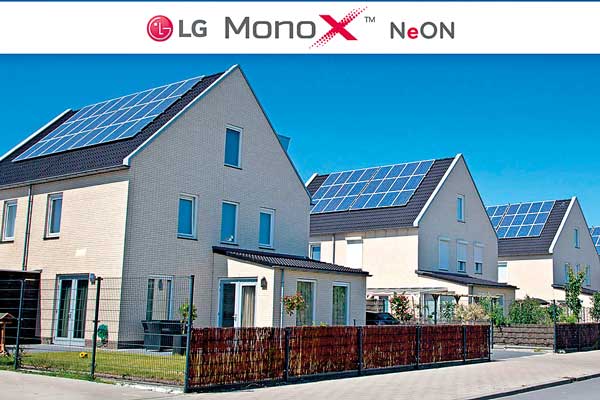 The Abans group ventured into supply and installation of solar systems in May 2013, in the wake of an energy crisis and increasing electricity charges and within a space of three years have installed over 250 systems linked to the national grid.

Abans success in this field is attributed to their incomparable engineering strength and vast experience in various large-scale engineering projects, coupled with the high-efficiency of LG's Neon2 Module Solar Panels. LG solar systems are guaranteed to save on your electricity bills, month after month for 25 years and more.

LG Neon2 Solar Panels are one of most efficient and technically advanced solar panels in the world, recording a high output by maximizing the power generation. The current energy crisis provides a very good reason for switching to solar energy conversion to electricity, with eco-friendly solar energy systems, while at the same time helping to preserve the earth's fossil fuel resources.

Making the right choice, when selecting a photovoltaic solar system is the most important factor to ensure that your investment will give you trouble-free performance and recover the cost of system within the shortest period. LG Solar Systems carry a Linear Performance Warranty of 25 years. This gives customers absolute peace of mind for 25 years.

LG Solar Panels undergo both internal and third party testing above and beyond the minimum standards required for solar PV modules. All products undergo: electroluminescence (EL) testing to identify cracks and flaws invisible to the human eye, an extended reliability test that subjects panels to high levels of irradiation to simulate conditions that a panel would see over its lifetime, comprehensive durability testing in which panels undergo long-term monitoring in a variety of climates and extreme mechanical tests that assure the panels' resilience against heavy loads, hail and other heavy impacts.

Additionally, the manufacturing environment in which LG panels are produced is virtually dust free–on par with those of highly sensitive semiconductor manufacturing facilities. This prevents imperfections that can cause inefficiencies and decrease efficiency down the line.

Every LG solar panel is flash tested to guarantee that it will produce power at their nameplate capacity or 3 percent greater when they are installed–many manufacturers' panels have a positive/negative power tolerance of +/-3 percent. Panels with a positive power tolerance allow system owners to avoid disappointment due to unexpectedly low output.

LG module frames are designed to reliably serve through module product and output warranties. Design features that enable them to do so include: Anodized aluminum frames designed to stay off external corrosion, 'perfect' water-draining design in frames prevents the accumulation of water inside parts of the panels over time and the associated corrosion that may result, frame bindings that use screws which lower the risk of physical distortion, and the ability to endure the heaviest loads that panels are likely to bear during their lifetimes.

Abans uses the world no 01 SMA Inverter from Germany. As a system technology specialist, SMA has been developing and distributing high-quality PV Inverters and innovative technology for intelligent energy management for over 30 years. Its technology and service solutions for all photovoltaic applications offer users more efficiency and independence in meeting their energy needs. With 98.8 percent efficiency SMA ensures optimum yields with minimized project risk.

Abans Electricals PLC, a reputed, well established company, handles the installation of the solar panels islandwide. The company has decades of experience in the engineering field, qualified and factory trained engineers, supervisors and technicians, well equipped workshop facilities and high-quality installation material.

No sub-standard products are used – only genuine branded products. Abans Electricals PLC has won the accolades and praises of their customers for efficient, quick and courteous installation and service of solar panels.

So, why risk your investment on a sub-standard, unbranded product for a short-term gain? A wise investment in LG Solar System will ensure that Abans will be with you for 25 years and more to service their warranty and give you absolute peace of mind.