---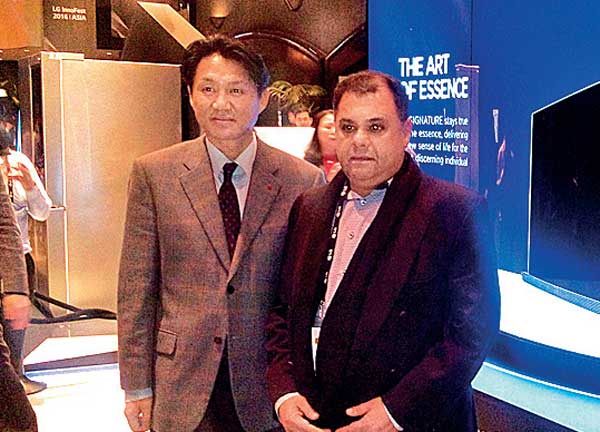 LG Electronics unveiled its new ultra-premium LG Signature products range at Innofest 2016 Asia, in Seoul, South Korea in Feb 2016. The annual event provides the company an opportunity to demonstrate its diverse range of products from consumer electronics to home appliances for regional business partners, retailers and members of the media.
The LG Signature product lineup brings together the company's best technology and best design under a single brand. "The vision of LG SIGNATURE is to stay pure and sophisticated, true to each product's essence." The LG SIGNATURE OLED TV boasts the ultimate in elegant simplicity by eliminating all unnecessary elements that distract from the viewer's immersive experience.
The LG SIGNATURE OLED TV features the company's unique Picture-on-Glass design, which boasts an ultra-thin 2.57mm OLED panel with a translucent glass back and forward-facing sound bar speaker system. The TV has a resolution of 3840 x 2160 pixels. To achieve this streamlined profile that blends in naturally into any interior environment, designers eliminated all unnecessary features and placed the speakers inside the stand.
LG OLED TVs display a wide gamut of accurate and intense colours, and because colours look best against a pure black background, images are now more vibrant and detailed. The Contrast Ratio is considered the key indicator of picture quality. LG OLED TV has self-lighting pixels that can switch off completely to achieve perfect black for infinite contrast, so that images come alive with breathtaking detail.
The exceptional picture quality holds up even from wide viewing angles. Only OLED can show full brighter bright and the darkest shadows OLED technology enables a design that is ultra-thin and light. It is supremely elegant, and as lovely on a tabletop as it is wall-mounted. The LG 8K Super UHD TV with ultra slim metallic design, presents an incredible viewing experience. With 33.2 million pixels and layered with several advanced technologies; colour, prime, plus, ultra luminance, and a new IPS panel. HDR Plus offers an exceptional viewing experience, featuring the improved performance of SUPER UHD to deliver richer colour, enhanced brightness and smooth motion. LG UHD TVs with exclusive Colour Prime Plus technology expands the colour palette beyond the current HDTV standard. Images can now be truer to the colours of life.
The new range of LG Smart TVs come with Magic Zoom to enjoy a magnified image, Magic Mobile connection for mobile apps on TV and Magic Remote. Comes in metallic design with True Black Panel, Triple XD Engine and Virtual Surround Sound. Super UHD is LG's best 4K LED TV, a Smart TV offering a superior viewing experience through advanced technologies delivering over a billion rich colours, smoother motion and elevated brightness plus HDR with Dolby Vision.
LG SUPER UHD TVs can reproduce a wider pallet of over a billion rich colours for a more lifelike picture, consistent at a wider viewing angle thanks to IPS 4K Quantum Display technology. An antiglare, lowreflection screen coating helps the TV to achieve superb black levels and a high contrast ratio for an exceptional Ultra HD picture. LGs new innovative TV product lineup will be available shortly at Abans, the sole agent in Sri Lanka for LG Televisions and Home appliances.