---
Abans recently launched LG's newest flagship smartphone, the LG G6, for the first time in Sri Lanka, being the country's sole authorized distributor for LG electronics.
Hosting exceptional features, this all new range is a stunning upgrade on the conventional smartphone experience that offers a progressive solution to current user needs.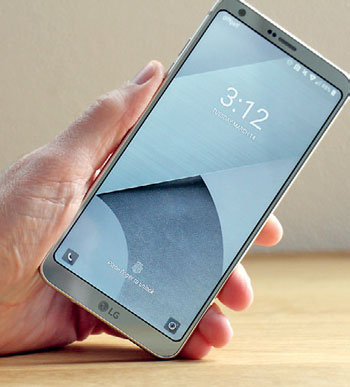 Keeping in mind the active lifestyles of consumers today, the LG G6 possesses an ultra slim design that is both elegant and durable at the same time. This smartphone showcases a refined curved back with a full glass, nearly-all screen front that gets rid of those fiddly home screen buttons for added sophistication and convenience. With 02 sleek colour options, namely Astro Black and Ice Platinum, the LG G6 perfectly suits the aesthetic preferences of any consumer ranging from business professionals to college students.
Plus, the incredible IP68 water-resistance capability function makes the phone not only attractive, but highly durable by allowing the LG G6 to withstand being submerged in 1.5m of water for up to 30 minutes. The LG G6 is also highly resistant against dust and dirt, which steadily assures you that this smartphone will produce an impressive performance over an extended period of time.
The LG G6 demonstrates the latest cutting-edge innovations in smartphone technology specially developed by LG. This includes a 5.7" FullVision Display with an 18:9 aspect ratio that renders images in sharp, intricate, and vibrant detail as well as the HDR Video support which uses Dolby Vision and HDR10 to enable users to watch their favourite movies, TV shows, and viral videos depicted in high quality.
Also, the LG G6 possesses an avant-garde Dual Rear Camera that uses one lens to take wide-angle 125° shots and another lens to capture conventional 71° snapshots. In addition, this innovative camera feature hosts the Square Camera Mode, which takes images in perfect 1:1 squares. With this function, users can also easily view two square photos at once as well as organize four photos into a uniform,
grid layout.
Moreover, the LG G6 offers a powerful performance that provides users a totally immersive experience with the all new Snapdragon 821 processor. The Snapdragon 821 Processor is a stark improvement on its predecessor, Snapdragon 820, as it produces an overall 10 percent boost in performance, so that browsing the web, loading apps, and gaming feels incredibly fast and seamless. The Snapdragon 821 processor is further supported by a 4GB RAM, 64GB ROM, and the Android 7.0 OS (Nougat) operating system.
The LG G6 smartphone range is available for purchase at all Abans and Abans Elite showrooms island wide. Now, receive up to 60 months' interest free on your Standard Chartered credit card or up to 20 months' interest free on the American Express credit card when you buy an LG G6.