---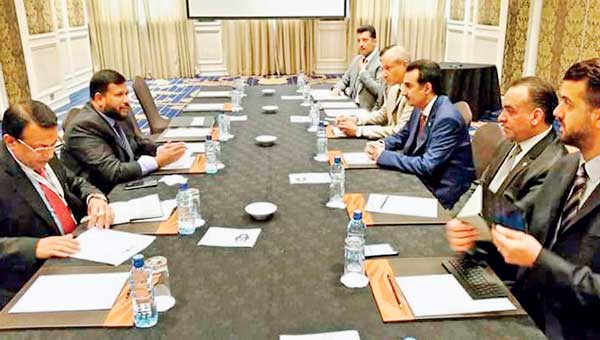 Minister Rishad Bathiudeen (LEFT) in discussion with Kuwaiti Minister of Commerce Yousuf M Abdullah Al-Ali and the delegation
Kuwait, the Persian Gulf economy with a longstanding aquaculture tradition, revealed its keenness for Lankan seafood and also expressed its interest to partner with the Lankan fishery industry.
"We import fish from other South Asian countries but not from Sri Lanka," revealed the Kuwaiti Minister of Commerce Yousuf M Abdullah Al-Ali in Kenya recently.

The Kuwaiti Commerce Minister Abdullah Al-Ali met Minister of Industry and Commerce of Sri Lanka Rishad Bathiudeen and discussed bilateral trade on the side-lines of 14th Session of the UN Conference on Trade and Development (UNCTAD 14) in Nairobi, Kenya.

Joining the session with Minister Bathiudeen was Sri Lanka's Ambassador and Permanent Representative to the World Trade Organization (WTO) R.D.S. Kumararatne. According to the Department of Commerce, in 2015, Total trade between the two countries stood at US$ 67.58 million. About 75 percent of Sri Lanka's exports to Kuwait is Ceylon Tea. Though Kuwait has a traditional fishery industry focused on finfish and shrimps. "Kuwait-Sri Lanka trade may be not so big but it is continuous. We believe we can develop this in future," noted Kuwaiti Minister Al Ali, and added: "We are keen to import fish such as Yellow Fin Tuna from Sri Lanka as well. We can also partner with Sri Lanka and develop this sector. We import fish from other South Asian countries but not from Sri Lanka. Therefore it is time we look at Sri Lanka." Minister Bathiudeen said,"Kuwait and Sri Lanka have sustained a strong, friendly relationship over the years.
We also thank Kuwait Fund for the support extended to build road infrastructure in Sri Lanka, especially a number of bridges. Sri Lanka's hub position is a great opportunity for global investors. Investors to Sri Lanka can access the neighbouring markets through our FTAs which allow the investors to export almost 8000 product lines duty free to the huge 1.4 billion South Asian market. I extend my fullest assistance to Kuwaiti investors who want to invest in our fishery sector. With regard to Kuwait partnering in our fisheries, I shall explore possibilities as to how Kuwait can invest in it. We also export about $190 million fish to major markets around the world. Tourism infrastructure, housing, other heavy infrastructure on BOT basis as well as fruits and vegetables are also promising investment opportunities for Kuwaiti investors and I invite Kuwaiti investors to these
sectors as well."

Kuwaiti Minister also suggested Minister Bathiudeen to arrange a presentation on potential investment projects in Sri Lanka, aimed at Kuwaiti funding agencies.
Kuwait currently imports a negligible volume of fish from Sri Lanka (US$ 0.38 million in 2015 but registered a 35 percent surge from its 2014 imports).