---
Known for its path-breaking technology and innovation, Sony Corporation - a global brand leader in entertainment, electronics and photography, recently appointed Kushantha Hewapathirana as the first brand ambassador for its Alpha series of professional cameras for the year 2016.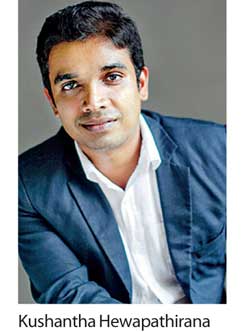 Hewapathirana is a wedding and commercial photographer and the Managing Director of Studio U (Pvt.) Ltd, a leading company for wedding photography and cinemography in Sri Lanka, which provides most of their services using Sony cameras. Having advanced over the years, he has turned into a fulfilling professional photographer and has become one of the famous household names for weddings in the country.
Commenting on the foreseen success of his company, Hewapathirana said, "I am truly grateful to be given this opportunity to represent and promote one of the most leading brands in the world. Sony's range of cameras has enabled me to take photography into greater levels in Sri Lanka due to its unmatched quality and world-class performance. It has also enabled 'Studio U' to expand its creative and innovative ideas in commercial photography, therefore I've strategically planned ahead on how to improve the standards of the photography and prosper the brand into greater heights in the industry."
As the brand ambassador for Sony, Hewapathirana will conduct workshops and seminars and will share his knowledge and experience in photography.
He will also provide his first-hand review on the latest pro-level cameras introduced by the company, thus providing Hewapathirana with an opportunity to interact with the top technicians and other talented photographers from the industry at home and abroad.