---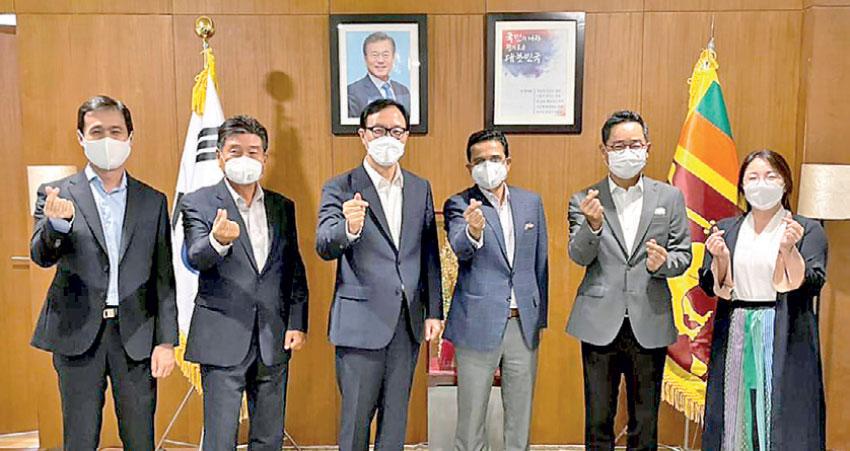 Hosts BOI Chairman at embassy with representatives of Korean Businessmen's Association
On March 18, 2021, Ambassador of the Republic of Korea Santhush Woonjin Jeong had hosted Board of Investment of Sri Lanka (BOI) Chairman Sanjaya Mohottala, at the Korean Embassy.

Representatives of the Korean Businessmen's Association and Korean Resident's Association participated in this fruitful discussion to promote bilateral trade and investment.

Korean investors have played a significant role in developing two-way trade and investment in ways that benefit both countries and both economies. The ambassador reiterated that the investors have helped to strengthen the commercial ties between Korea and Sri Lanka in harmony with the national policy.

Since the COVID-19 pandemic, the global economy, including the Sri Lankan economy, has experienced a negative impact. Korean investors have faced many challenges amidst travel restrictions and disruptions in the global supply chains.

Mohottala agreed to expedite the resolution process of the challenges faced by the Korean investors, due to the COVID-19 pandemic.

The ambassador and Korean business delegation expressed their gratitude to the continuous assistance extended by the BOI led by Mohottala in coordinating and facilitating two-way trade and investment.
The ambassador further stated that FDI as one of the key strategic pivots in elevating and advancing the overall economy of Sri Lanka. The ambassador further added that Sri Lanka is very safe and is well poised to receive foreign direct investment and foreign institutional investment, particularly from the Republic of Korea, since the two countries have been engaged in economic and commercial activity for well over four decades.

The ambassador is confident that the active role of the BOI will attract more investment opportunities, thus paving the way to consolidate strong bilateral ties.