---
Kishu Gomes has joined Dreamron Group of Companies this week as Group CEO and Group Director, after bidding farewell to Sri Lanka Tourism.

Dreamron Group of Companies is a leading manufacturer of a wide range of professional cosmetics, hair care, skin care, and toiletries. The group is also making inroads into the perfume market to extend its product portfolio for more aggressive growth.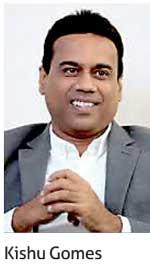 Gomes has undertaken the task of taking the group to higher echelons with a refreshed strategy and execution together with its Chairman/Managing Director Dr. Priyanka Perera and Group Director Nisha Perera.

Before joining the tourism office, Gomes functioned as Managing Director and Chief Executive Officer of Chevron Lubricants Lanka PLC.

Being a fully local company, Gomes stated that Dreamron is creating tremendous economic value for the country through exports and competing in an industry that is typically dominated by multinationals.

Dreamron posses a 120,000 sqft manufacturing facility and office complex in a 10-acre land with two plants certified by GMP, ISO 9001-2015. One plant is dedicated to exports and another for local manufacturing.
The raw materials are sourced from USA, Germany, France, Italy, Canada, UK, Japan and a few other countries meeting the highest EU regulations and standards.

The Dreamron Group's four business entities are Kindai Kagaku Lanka (Pvt) Ltd, Harumi Holdings (Pvt) Ltd, Dreamron Lanka (Pvt) Ltd and Dreamron College of Art and Beauty.
The number of employees attached to the four business entities at present stand at 650.

Currently, Dreamron products are marketed in over 15 countries including Japan, Canada, Netherlands, Sweden, Australia, India, Bangladesh and Pakistan. Further, efforts are also underway to enter into several new markets across the globe.