---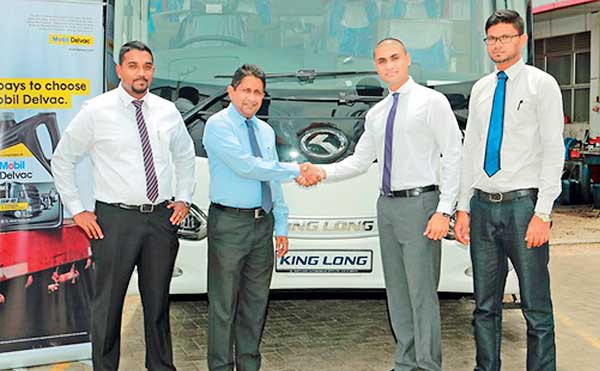 From left: Chamila Sugathadasa – Service Manager, Softlogic Automobiles, Shehan De Tissera – Head of Operations , Softlogic Automobiles, Dilan Seneviratne, Head of Marketing, McLarens Lubricants Limited and Kasun Karunarathna – Senior Service Advisor , Softlogic Automobiles
McLarens Lubricants Limited, the sole distributer for ExxonMobil Lubricants in Sri Lanka, has entered into a strategic partnership with Softlogic Automobiles as their exclusive lubricant supplier for King Long Luxury Coaches in the country.

King Long is one of the world's largest bus manufacturers, specializing in luxury buses and coaches and supplying to over 80 countries and regions across the globe.

We are very pleased to be part of this partnership," said Dilan Seneviratne, Head of Marketing at Mobil Sri Lanka. "Mobil enjoys an established legacy as a product technology leader with the highest level of expertise, working side-by-side with leading automotive brands around the world. This partnership with King Long Coachesis an extension of that legacy. According to Seneviratne, the preferred lubricant for King LongCoaches will be Mobil DelvacMX 15W-40 which is a heavy-duty product manufactured from high performance base oils and has a superior balanced additive system to provide optimum engine performance through increased viscosity, deposit control and wear protection.

In the Diesel segment the Mobil Delvac range has strongly established itself as a trusted product for all commercial vehicles, and drivers across the globe rely on Mobil Delvac engine oils. For over 90 years the Mobil Delvac brand has been a recognized leader in heavy-duty specialized lubricants for commercial and utility vehicles. Mobil Delvac is a product of ExxonMobil, the largest publicly traded international Oil and Gas Company that uses cutting edge technology and innovation to help meet the world's growing energy needs. With its diversified portfolio in the business arena, ExxonMobil is also one of the world's largest integrated refiners, marketers of petroleum products and chemical manufacturers.

Shehan de Tissera, Head of Operations for Softlogic Automobiles (Pvt) Ltd. said "We offer a top of the range luxury coach to the customer and also back it up with a solid after sales service. Using top of the range genuine spares and lubricants is a must to keep the engine and the transmission healthy in our local operating conditions. We selected Mobil Lubricants as our lubrication partner as we are convinced that Mobil is a world class product and its range of Multi Grade engine oils allowextended draining intervals, consistently smooth operation, excellent protection in heavy stop/go traffic and superior performance in heavy duty commercial engines."

Softlogic Automobiles is one of the premier automobile companies and a subsidiary of Softlogic Holdings, one of Sri Lanka's diversified conglomerates with businesses in retail, healthcare, ICT, Automobiles, travel and leisure, finance, insurance and distributes and markets some of the world's best known brands.