---
Diversified Sunshine Holdings PLC saw its net profit for the June quarter (1Q17) rising as much as 27 percent year-on-year (YoY) to Rs.206.5 million, helped by better performance of its key sectors, the interim financial accounts released to the Colombo Stock Exchange showed.
The earnings per share for the quarter improved to Rs.1.53 from Rs.1.20.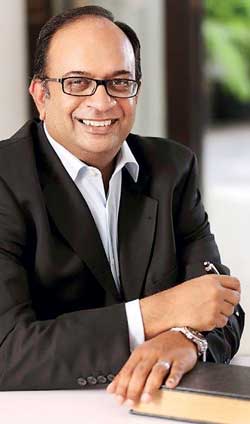 The group operates in five major business sectors, namely, healthcare (Sunshine Healthcare Lanka Ltd and Healthguard Ltd), fast-moving consumer goods (FMCG) (Watawala Tea Ceylon Ltd), agribusiness (Watawala Plantations PLC), packaging (Sunshine Packaging Ltd) and renewable energy (Sunshine Energy Ltd).
Revenue reported for the quarter rose 11 percent YoY to Rs.4.62 billion. According to the group, this was the highest ever revenue recorded for a three-month period.
With higher revenue and modest growth in direct costs and other expenses, the group reported healthy gross and operating profit growths of 28 and 30 percent YoY to Rs.1.2 billion and 519.1 million, respectively.
The healthcare sector, which accounted for 42.4 percent of the group turnover in the quarter under review, increased its revenue by 18 percent YoY to Rs.1.95 billion. However, owing to the exchange rate fluctuations, the segment's profit-after-tax (PAT) fell 6.1 percent YoY to Rs.79.9 million.
The FMCG sector revenue grew 14.4 percent YoY to Rs.783 million with continued growth in the domestic market in which its brands – Zesta, Watawala Tea and Ran Kahata – collectively have over 35 percent market share.
The group however said the segment's PAT, which fell to Rs.42 million from Rs.82 million, was adversely affected by pickup in tea prices and the cost of rollout of 'Zesta Connoisseur' to Shangri-La properties worldwide.
The group's agribusiness PAT rose 82.7 percent YoY to Rs.238.5 million as it cut its exposure to tea, though the move reduced revenue by a marginal 1.6 percent YoY to Rs.1.66 billion.
Revenue of the packaging sector was up 8 percent YoY to Rs.102 million, while its PAT grew to Rs.8.2 million from Rs.5.7 million.
The renewable energy sector saw its revenue falling 24 percent YoY to Rs.25.5 million with the sector's PAT too declining to Rs.7 million from Rs.12.5 million.
Meanwhile, Sunshine Holdings said expansions are set to continue across the group with Healthguard – the leading speciality health, wellness and beauty retail chain – set to open two new stores during the second quarter.
"Sunshine Healthcare is focusing on further strengthening its product portfolio by securing new agencies – particularly in chronic care and wellness.
By September, Zesta Connoisseur is also expected to be rolled out to all Shangri-La Hotels and Resorts worldwide, as part of an agreement between the exclusive hotel chain and Watawala Tea Ceylon. Sunshine Energy's second hydropower plant is set to generate revenue from the next quarter as well," a group statement said.
As at June 30, 2016, high-net-worth investor Dr. T. Senthilverl remained Sunshine Holdings' single largest shareholder with a stake of Rs.23.24 percent.
Meanwhile, Candor Opportunities Fund had entered the top 20 shareholders with 100,000 shares.
The public float of the company as at the same date was 6.26 percent, much below the levels stipulated by the Securities and Exchange Commission.