---
But higher borrowings weigh on profits
Full year finance cost jumps over 400% to Rs.156mn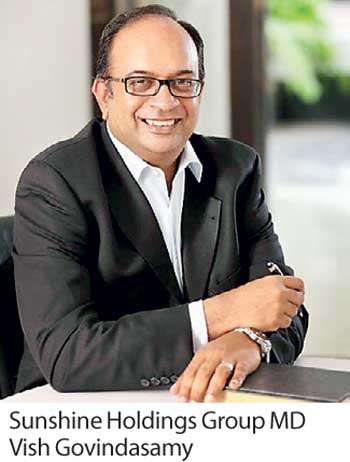 Healthcare, agri, consumer and renewable energy businesses performed well over the previous year to give an impetus to Sunshine Holdings PLC's top line in the most recent quarter, with the diversified group's restructuring efforts appearing to yield results.

However the group's re-setting period saw its leverage rising higher leading to a rating downgrade by Fitch to 'A-' from 'A', early this year.
In response, Sunshine recently began to de-leverage the group replacing high debt cost with low cost borrowings and a private placement of shares to reduce the heavy finance cost weighing on the group's bottom line.

For the January-March quarter (4Q18), the group famed for its Watawala branded tea, increased its consolidated top line by 13 percent year-on-year (YoY) to Rs.5.7 billion, mainly led by the healthcare business, and the operating profit rose by 38 percent YoY to Rs.591.1 million.

The earnings dropped to 85 cents a share or Rs.116.2 million from 90 cents a share or Rs.123.4 million a year ago as net finance costs shot up to Rs.94.3 million from Rs.15 million during the same period last year.

The tax charge also saw a steep increase from Rs.132.8 million to Rs.331.5 million.

For the year ended March 2018, the Sunshine group reported Rs.6.08 a share on total earnings of Rs.829.4 million compared to Rs.4.13 cents a share or Rs.563.8 million a year ago.

The total revenue was Rs.21.2 billion, up 12 percent YoY while the operating profit was up 24 percent YoY to Rs.2.6 billion.

The full year finance cost jumped over 400 percent YoY to Rs.156.2 million.

In December, 2017, Sunshine Holdings increased its stake in Estate Management Services Private Limited, the holding company for agri and consumer goods segments, to 60 percent from 33.2 percent as Tata Global Beverages divested its stake in Sunshine for Rs.2.9 billion.

The deal added an additional debt of Rs.2.7 billion.

In order to fend off the profit pressure from higher borrowing costs, Sunshine this month announced a Rs.775 million private placement with SBI Ven Holdings (Pte) Limited in return for a 8.7 percent stake in the group.

SBI Ven Holdings (Pte) Limited, a subsidiary of SBI Holdings, is a key player in the Japanese securities industry market and it already owns 10.99 percent stake in Sunshine Holdings.

In January, Sunshine Holdings set up a liaison office in partnership with SBI Ven Holdings to entice Japanese investors to Sri Lanka.

Further in April, the company took receipt of a 5-year loan of US $ 9.15 million from Standard Chartered Bank, Mauritius, to retire higher borrowing costs.

During the period under review, the group's palm oil segment contracted by 5.5 percent, owing to decreased price in Crude Palm Oil (CPO) throughout FY18. However, this decline was offset by outstanding improvements in the tea sector which posted a 16.8 percent growth during the period in review, owing to higher volumes and favourable market prices, the company said.

Sunshine is Sri Lanka's largest palm oil producer accounting for more than half of the domestic output.

The group's healthcare sector posted revenue growth of 3.8 percent mainly supported by its retail sub sector—represented by rapidly-growing Healthguard franchise—growing 22 percent.

The growth in Healthguard was primarily driven by the wellness and beauty categories, supported by strong brands such as GNC and Ulta3, the company further added.

As at March 31, 2018, Lamurep Investments Limited (Lamurep), an investment firm owned by a few directors of Sunshine, held a 49.34 percent stake in the company.