---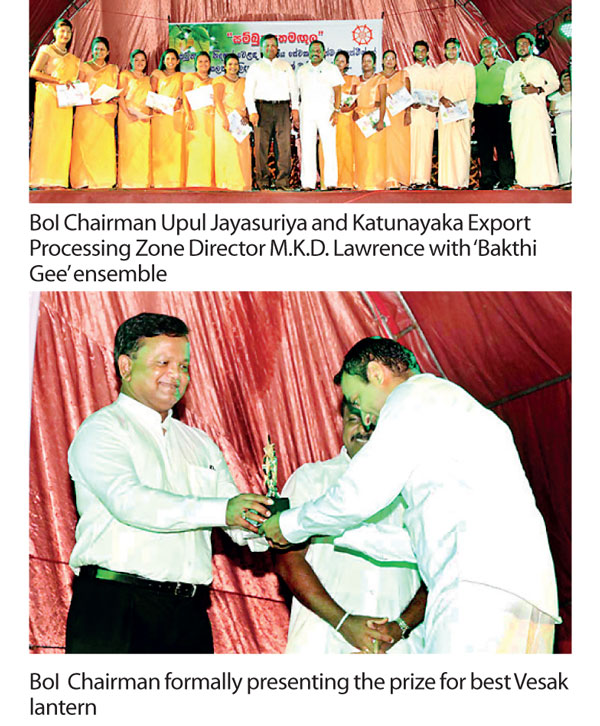 The Board of Investment (BoI) of Sri Lanka and Free Trade Zone Manufacturers' Association (FTZMA) organised a Vesak celebration at the Katunayake Export Processing Zone (KEPZ) recently at the entrance of the zone.

The celebration included a 'Bakthi Gee' competition between employees of 12 BoI enterprises followed by a competition of 50 Vesak lanterns. Dansalas were also set up at the zone premises with the support of the managements of the zone enterprises.

BoI Chairman Upul Jayasuriya was the chief guest and BoI Director General Duminda Ariyasinghe and FTZMA President Fazal Abdeen will be the guest of honours at the opening ceremony.
Katunayake Export Processing Zone with a land extent of 531 acres is the largest zone in the country with a close proximity to Bandaranaike International Airport. It is the first Export Processing Zone in Sri Lanka, established in 1978, accommodating enterprises from different sectors and declared as a bonded area for hub operations.

Altogether there are 86 enterprises in commercial operations in adverse range of industries including for example high-end apparel, rubber products, electronic components and cigars. Its companies employ nearly 39,000 workers in different sectors. KEPZ has contributed Rs.117 billion to Sri Lanka's total imports and the export contribution was Rs.175 billion in 2015. In 2015 the USA was the main export market for products made at the KEPZ.
Brandix, Smart Shirts, ATG Group of Companies, Hirdaramani and UTP were the leading five companies at the KEPZ. The Katunayake Export Processing Zone therefore plays a vital role in the Sri Lankan economy as a source of exports, employer and for the technological transfers imparted.