---
Urges need do away with nepotism when it comes to key appointments to SOEs
Says directors and chairmen should be professionals and not friends and family
Attributes mismanagement of public enterprises to poor selection of heads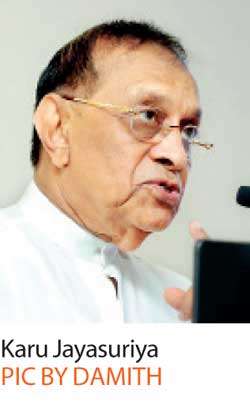 By Shabiya Ali Ahlam
As the economy continues to fall victim to nepotism, which taxes the nation in terms of income and productivity, Speaker of Parliament Karu Jayasuriya this week stressed the need to do away with the corrupt practice, so that the public enterprises can be revived from their inefficient status.

Referring to the frequent occurring of political appointments to the director boards of public enterprises, the speaker stated such developments remain an area of serious concern and said steps are being taken to address the same.

"There continues to be a lack in the professional management of public enterprises. There have been many political appointments at top levels. We have always maintained that the boards of directors and chairmen should be professionals and not friends and family. This is needed to run the place efficiently," said Jayasuriya, addressing a forum on good governance in public enterprises in Colombo.

He added that it must be ensured that the chairmen and those sitting on the boards are dynamic people, who are well-versed on the enterprise, industry and its market, as it is they who will be responsible for a successful operation.