---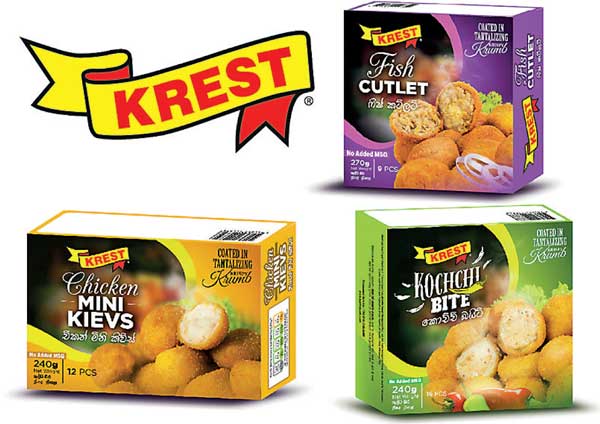 The KREST experience, delivered by Keells Food Products, is the number one trusted brand in formed meats which has won the hearts of thousands of taste-seekers for more than 25 years, with its wide product range which includes Chinese Rolls, Drumsticks, and MiniKievs etc. This festive season KREST is further enhancing its offering to the Lankan market with a whole new range of superior quality products, which is sure to be a satisfying food experience to all food lovers.

In the quest for the perfect blend of traditional tastes and convenience, KREST introduces 3 new variants the Fish Cutlet, Kochchi Bite & Chicken Mini Kieves. Fish Cutlet has home-made-taste and quality, Kochchi Bites includes hot hotKochchi (Thai Chili) with cheese and Chicken Mini Kievs with a cheese filled center. The new tasty trio is now available at any retail outlet or supermarket.
Commenting on these three revolutionary KREST products, Vice President of Sales and Marketing at Keells Food Products, Neil Samarasinghe stated that they always respect and recognize the requirements of the consumer and always committed tofulfill their needs of taste, superior quality and convenience by introducing innovative convenient products manufactured using state of the art technology under international quality and hygiene standards.