---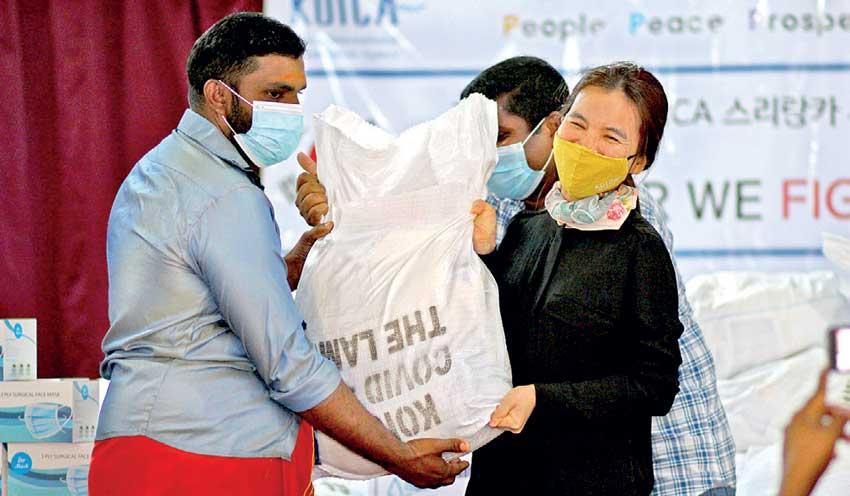 The Korea International Cooperation Agency (KOICA) in partnership with Korean NGO 'The Lamp Lanka' helps estate communities in Central Province to strengthen COVID-19 response capacity by providing essential food items and hygiene products.

Due to the outbreak of COVID-19 followed by the island-wide curfew, vulnerability of the estate communities even more increased, and there have been urgent needs for food and hygiene products.

In an effort to alleviate the estate communities' sufferings, The Lamp Lanka funded by KOICA recently launched a COVID-19 response project "strengthening COVID-19 response capacity of most vulnerable population (urban, ethnic minority) in Sri Lanka" in consultation with the local government. Through this project, 600 households are provided with essential food kits which consist of rice, curry, sugar, flour, tea, and powdered milk, COVID-19 prevention guidebooks, face masks, and soaps.

The project also supports 69 hand washing facilities and 201 sets of hygiene items for schools in the estate communities with efforts to improve awareness of hygiene practices in order to enhance COVID-19 response capacity of the marginalized communities. The fund amounts to about Rs. 42 million.
On September 22nd at Galamudunakanista Tamil School, a donation event of the project was held at the presence of KOICA, The Lamp Lanka, Education Department, School principal, PHI staff, community members, etc.
At the event, the Country Director of KOICA Sri Lanka Office, Kang Youn Hwa said, "KOICA hopes this support help the vulnerable in society to overcome the challenges posed by COVID-19 and will continue to work with the government and partners to fight against COVID-19."

The Manager of The Lamp Lanka, John Seo appreciated KOICA as well as Sri Lankan government for their support and hoped that those who are struggling with COVID-19 could overcome the challenges they face at the moment.

Sathyandra, the Director of Education Department also expressed her gratitude on behalf of the community members. KOICA is the Korean government agency for grant aids under the mission of "Leave no one behind with People-centered Peace and Prosperity."

KOICA Sri Lanka Office has been implementing a variety of development projects and fellowship programs since 1991 and currently supporting various grant projects including COVID-19 response projects to fight against COVID-19 in Sri Lanka in conjunction with the Sri Lankan Government, Korean NGOs, and International Organizations. KOICA Sri Lanka Office is particularly keen to put more efforts to support the most vulnerable in society to overcome the current crisis.