---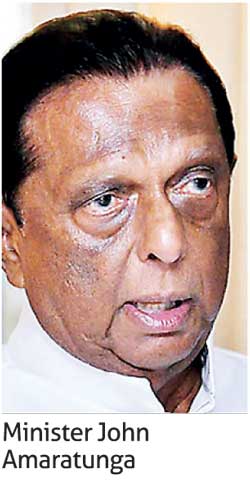 With reference to our news item titled 'Tensions run high at tourism office as SLTPB Chairman asked to leave' which appeared yesterday, Tourism and Christian Affairs Minister John Amaratunga had sent the following clarification.

"At the very outset I wish to inform you that there is absolutely no 'tension' at the Sri Lanka Tourism Promotion Bureau and day-to-day activities as well as the planned marketing campaigns are progressing smoothly without any issues.

"In fact the Digital Marketing Campaign is on track to be launched as it is now being driven by the Prime Minister's office due to the unacceptable delays and lack of experience in digital marketing at the SLPTB.

"It is true that The Hotels' Association of Sri Lanka (THASL) and Sri Lanka Inbound Tour Operators Association (SLAITO) requested a meeting with me which I readily granted yesterday morning.
These Associations are free to express their opinions but it is the Tourism Ministry that is mandated by the government to do what is best for the industry.

"It is the ministry that is responsible for ensuring good governance and achieving the targets set out in the Tourism Strategic Plan 2020. I as the minister in -charge am responsible for the actions of the boards coming under my ministry, and it is my responsibility to ensure that the principles of good governance govern all their actions and transactions.

"These are routine administrative functions that we regularly witness in the private sector. Unfortunately when the same thing takes place in a state institution, certain people in the private sector are quick to pounce on it. End of the day, adherence to government rules, financial regulations and the need for an effective SLTPB Board are what dictated my actions."