---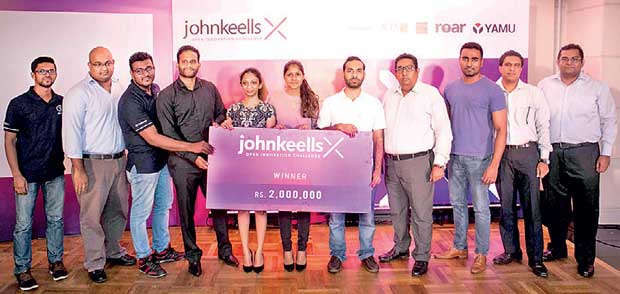 John Keells Holdings PLC (JKH) announced the six winners of its second John Keells X (JKX) Open Innovation Challenge at a Pitch Day recently.

The winners advance to the JKX six-month Accelerator Programme, which will allow them to tap into a wealth of JKH resources, including seed funding, office space, access to support services such as legal, secretarial and finance, mentoring from the industry's best and brightest, curated curriculum and the chance to pitch for and secure further funding for their business idea.

JKX was first launched in 2016 to boost creative and intellectual business talent in Sri Lanka via a competitive programme conceptualized and administered by JKH, Sri Lanka's premier listed conglomerate.

"We are very pleased with the diversity of ideas and business models here," noted JKX Head Wishanth Wijesinha.

"The teams have developed their ideas since they were initially shortlisted and we have chosen the most promising six teams to enter the six-month accelerator programme."

The panel of judges for this year comprised of JKH Deputy Chairman Ajit Gunewardene, JKH Group Finance Director Ronnie Peiris, JKH Executive Director Krishan Balendra, JKH Executive Director Gihan Cooray, JKH Executive Vice President and Chief Information Officer Ramesh Shanmuganathan, Axiata Group South Asia Regional CEO/JKH Non-Executive Director Dr. Hans Wijayasuriya and Hatton National Bank PLC Managing Director/CEO Jonathan Alles.
The six winners are (in no particular order):

-Direct Pay – Electronic/Mobile payment solution for onsite/online financial transactions
-Greasemonkey.lk – e-commerce platform dedicated for automotive products and services
-Helios – A peer to peer lending platform leveraging on blockchain technology
-iLoan – Borrower driven online loan aggregator and powering engine
-MyTuition.lk – A simple, efficient and interactive learning platform
-Senzagro – First IoT/Sensor-based precision agriculture solution in Sri Lanka
They will have the opportunity to interact with the JKH companies and senior level leadership mentors, along with opportunities for further investment during or after the accelerator programme.
"I'm looking forward to seeing these teams progress over the next six months," said Balendra.
"My door is always open to them, as are my colleagues'. We strongly believe that the private sector can play a very important role in improving the scope for innovation and entrepreneurship in Sri Lanka. This is us playing our part and we're confident that this cycle and the ones to follow will produce some star teams and ventures."