---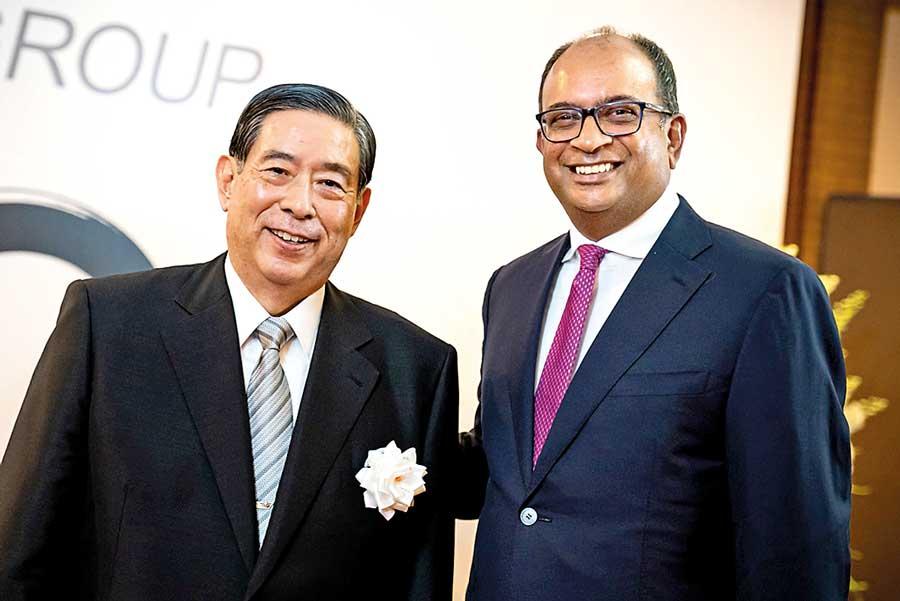 Sunshine Holdings Group Managing Director Vish Govindasamy with SBI Holdings President and CEO Yoshitaka Kitao
Diversified conglomerate Sunshine Holdings PLC announced that SBI Ven Holdings (Pte) Limited, the overseas private equity firm of SBI Holdings Inc., has invested US $ 2 million in Sunshine Energy (Pvt.) Ltd (SEL) to propel Sunshine Holdings' renewable energy production projects further.

The strategic investment offers SBI Ven Holdings a 30 percent stake in Sunshine Energy Ltd.

The Sunshine group began exploring the renewable energy sector in 2012 and today, Sunshine Energy Limited—a fully-owned subsidiary of the group—has a 6.6 MW capacity through three mini-hydropower plants in the Lindula region.

The company's quest towards green energy production gathered momentum in February 2019, when SEL installed its first rooftop solar PV systems in Kelaniya.

With three rooftop solar projects in multiple locations, SEL contributes a combined capacity of 7.1 MW.

The Sunshine renewable energy business sits squarely in the nation-building space, with the potential to contribute significantly towards the annual 6-7 percent increase
in power demand.

In the near future, the Sunshine group is looking to increase their contribution to the national grid to 15MW while also exploring other forms of renewable energy, including the wind
and biogas project.

Commenting on their latest association with Japan's financial giant, Sunshine Holdings Group Managing Director Vish Govindasamy said, "At a time where the investor confidence and sentiment have been greatly affected, SBI Ven Holdings's investment on Sunshine Energy brings in vital foreign direct investments (FDI) to Sri Lanka when it is much needed in the
market and economy.
Not only this strategic investment paves a path for us to support the government's vision of sourcing 100 percent renewable electricity by 2050 but it also validates our long-term vision and investor-friendly corporate governance framework, helping us to build confidence and attract leading global equity firms like SBI Ven Holdings."

The SBI group, spearheaded by the visionary President and CEO Yoshitaka Kitao, is a key player in the Japanese securities industry and has keen interests in the financial services, healthcare and energy sectors in Japan. With over 6,000 employees and assets under management of over US $ 3 billion, the SBI group has offices in over 15 countries and invested in about 1,500 companies globally.

In July 2018, Sunshine Holdings entered into a private placement with SBI Ven Holdings to raise Rs.775 million. They are the second-largest shareholder of the diversified conglomerate.