---

In the aftermath of the disruption caused by the tragic events on Easter morning, on April 21, 2019, the Board of Investment (BOI), represented by its Media and Publicity Director Dilip S. Samarasinghe, spoke to Kyoto, Japan's Tosslec Co. Ltd President Jitsuo Mikasa, whose subsidiary Tos Lanka Co. (Pvt.) Ltd has been in operation at the Biyagama Export Processing Zone since 1995.

Could you please share with us your synergies with the electronic manufacturing services industry?
In my younger days, I was invited to join Japan's Nidek, which was a reputed global leader in hard disk technology. The president of Nidek was my personal friend. However, due to the reasons of a compelling personal nature, I was more interested in venturing on my own and 38 years ago, I set up Tosslec Co. Ltd, located in the heartland of Kyoto, Japan.
Tosslec, which is a medium-scale electronics manufacturing services company, specialises in printed circuit boards and was a key player in the domestic supply value chain for electronics manufacturing in Japan, with links to major brand names such as Nidek, GS Battery, Fuji Denki, Nippon Denso and iconic Toyota.

How significant is Tosslec today in the Japanese electronics industry vis-a-vis the major brand names in Japan?
Over the years, Tosslec strengthened its position in the Japanese value chain in manufacturing. Through the efforts of a team of young engineers dedicated to flawless quality and timely delivery, we have established ourselves as a reliable supplier of a multifaceted range of printed circuit boards for major brands such as Nidek, GS Battery, Fuji Denki and Nippon Denso.
Currently, Tosslec runs a continuous manufacturing programme for automotive air conditioning sensors for Toyota.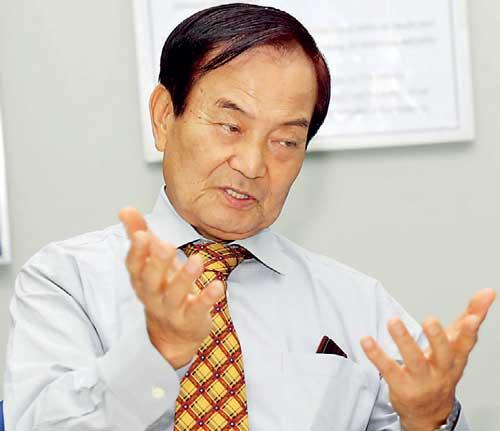 What was your motivation to set up a subsidiary in Sri Lanka?
In view of the continuous escalation of manufacturing costs in Japan, I strategised the need to shift our manufacturing base offshore. China was the first option. However, my decision in 1995 in setting up Tos Lanka in Biyagama was the outcome of my intrinsic affection and attachment to Sri Lanka. First and foremost, I value our common heritage in Buddhism.
I have also read with much gratitude the historic role played by the great statesman, President J.R. Jayewardene and his plea on behalf of Japan at the San Francisco Conference, at the end of the war.
My decision to invest in Sri Lanka was further strengthened due to the friendship I shared with Merrick Gooneratne, who has done his postgraduate studies at the Kyoto University, speaks fluent Japanese and who was awarded the Emperor's Order of the Rising Sun in 2014. He has been my partner for the past 24 years as CEO of Tos Lanka.

What is your overview of Sri Lankan manufacturing competence in the background of Tos Lanka's operations for nearly 25 years?
I was impressed with the comparatively high level of education, literacy and numeracy skills in Sri Lanka, which facilitate the assembly of a competent workforce. The average Sri Lanka factory operator is diligent, agile, understands instructions and is capable of meeting the highest quality standards in manufacturing.
With the leadership of educated young engineers specialised in electronic manufacturing skills, my core workers at Tos Lanka have established for Tos Lanka a niche market position as a supplier of 'low-volume high-value' electronic components to sophisticated markets of Japan, North America and Europe.
I recall my visit to Norway and travelling to distant manufacturing sites in Norway, promoting Sri Lankan electronics with much success. I have also visited Germany, Finland and Vancouver in Canada and through these visits, established a customer network in Germany and Vancouver for low-volume high-value electronic assemblies, including PCBs for multi end users such as biomedical engineering, surveillance equipment, telecommunications, oil drilling and consumer electronics and of course, the automotive sector.
Our products have won the confidence of our buyers for compliance with the highest quality standards, backed by the mandatory international certification procedures.

How would you characterise your company's operations in Sri Lanka?
First and foremost, the emphasis at Tos Lanka is on achieving global quality standards. I believe in upgrading human skills. With this in mind, I initiated in 1997 a continuous HRD programme, under which batches of my core workers from Tos Lanka are sent on short-term and long-term training in manufacturing and quality management techniques in my Japanese company's facilities in Kyoto and Nakatsugawa.
Under this programme, I am proud to have enhanced Sri Lankan engineering skills by training a workforce of over 300 young men and women over the past 23 years. Most of them continue to work at Tos Lanka up to date and some serving other sectors.
I believe that the Japanese work ethic based on discipline and innovation and out of the box thinking is relevant to upgrading the Sri Lankan manufacturing to global standards.

Are you diversifying your company's activities in Sri Lanka?
We hope to play an important role by supplying the Set-Top Box when digital TV is introduced to Sri Lanka, hopefully under the Japanese standard. Since 2016, we have also been working on an electronics solution for moth repellents to control the loss to Sri Lanka's agriculture due to a plethora of moths, specially nocturnal moths.
Our product is also targeted towards controlling the fall army moth, which was a plague on Sri Lankan agriculture in the recent past. We are working closely with state institutions such as Horticultural Crop Research and Development Institute and privately-owned organic farms. Already our innovative LED lamp is being used successfully to repel moths on some organic farms concentrating on fruits and vegetables.
Meanwhile, we are also strengthening our efficiencies in our ongoing operations related to automotive safety harnessing and air bag assembly, which we pioneered in Sri Lanka in 2002. We are also consolidating our operations in coil assemblies.

What would you perceive to be your other major contributions to Sri Lankan manufacturing?
Under my leadership, Tos Lanka is committed to taking Sri Lankan electronics into its villages and hinterland. With this in view, I set up an outsource centre in Mulativu with the assistance of a Swiss NGO. Unfortunately, this could not be sustained due to the reluctance of the youth in that area to work in a manufacturing environment and also the logistics issues involved.
We were also involved in employing several displaced youth in the Eastern Province in the aftermath of the war. My CEO Merrick Gooneratne is dedicated towards national reconciliation and has always endeavoured to employ a multi-ethnic workforce.
I am happy to note that my outsourcing centres in Kegalle and Mawanella are working successfully. We are now in discussion with a few entrepreneurs in setting up outsourcing centres in other parts of Sri Lanka's hinterland.

Is your holding company in Kyoto, Japan, involved in other initiatives?
We are at this time concentrating on developing ultra fine bubble technology, which is an exciting innovative technology that opens up innovation for agriculture, food processing, cleaning and medical applications.
If this present initiative in Japan works out well, I hope to diversify the activities of Tos Lanka accordingly, as I see much relevance of this technology in Sri Lanka's growing marine farming industry.

My last question, what is your reaction to the tragedy and trauma of the Easter morning in 2019?
This happened on the morning after arrival to Sri Lanka on my monthly short duration visit. I was at golf at the Royal Colombo Golf Club when Merrick Gooneratne phoned me and informed me of this terrorist attack.
Of course, this is nothing new to me. I maintained my calm and recollected an incident in 1996 when I came to Sri Lanka to sign the agreement with the BOI to commence Tos Lanka operations. The Central Bank had been bombed and the country was in a state of panic. I was undisturbed.
Since 1995, we built Tos Lanka and sustained its operations at the worst times of the war up to achievement of peace on May 18, 2009. I was never discouraged by the many experiences of disaster and disruption during the years of the LTTE conflict.
But in the same spirit, I remained undeterred by the tragedy of the Easter morning. I reaffirm my commitment to Sri Lanka and to further progress of my company in Sri Lanka towards new investment without any break or disruption of my customer network.
In fact, on April 22, the day after the bombing, assisted by my CEO Merrick Gooneratne, I ensured unimpeded activities of my company. Our attendance was even better than normal. There was hardly any absenteeism. There was no disruption in utilities. The port and airport functioned as normal. Movement of our imports and exports functioned perfectly.
I noted with satisfaction the excellent response from the BOI administration in Biyagama to restore normalcy in the zone. Security arrangements were strengthened and our workforce attended work without any disruption. A German business delegation, which was to have visited on May 13, postponed the visit to another date because of this incident. Beyond that, I have no negative outcome from the April 21 incident.
My resident manager, who is Japanese, continues to be in Sri Lanka, leading a normal life. My employees are happy. All systems are working well. The BOI responds to our issues positively. Security is assured. Outsourcing centres work well. Our commitments to all our foreign buyers are on schedule.
What is more, all Japanese restaurants are open as usual. The Golf Club is open as usual. To me life is undisrupted in Sri Lanka and I reiterate my faith in Sri Lanka and plans for business expansion.