---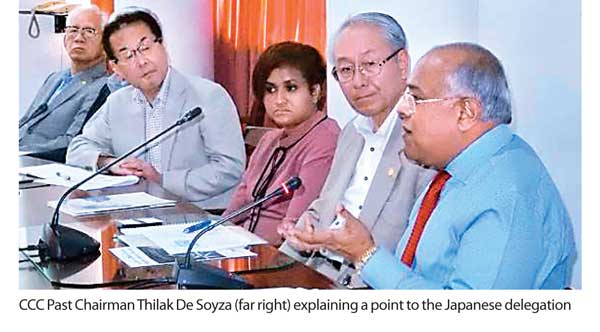 A delegation of Japanese Small and Medium Enterprises (SMEs) which was in Colombo this week had expressed its keenness to invest in Sri Lanka to tap into the vast markets in Asia and Africa.
"They met with the officials of the Ceylon Chamber of Commerce and inquired on the economic and investment climate of the country. The mission was focusing on establishing ties between Japanese and Sri Lankan SMEs," a Ceylon Chamber of Commerce (CCC) statement said.

The delegation was a joint effort between the World Business Society of Tokyo Small and Medium Enterprise Consultant Association and World Business Associates Company Limited. "Japanese enterprises are looking at how they can tap into the one billion strong Indian market via Sri Lanka and also focus further into the larger regions of Africa and South-East Asia," the CCC added.
The Sri Lankan government is currently in the process of negotiating multiple duty free access agreements with India, Singapore and China, and there are ideas to pursue duty free entry into South Korea, Japan, Turkey, Bangladesh, Vietnam, Malaysia and Thailand.

The delegation included representatives from 15 Japanese companies with diversified business operations, and were scouting for opportunities especially in the areas of agricultural product processing, textile industry, healthcare service and tourism.
The meeting took place at the Ceylon Chamber of Commerce and CCC Past Chairman Thilak De Soyza was also present at the meeting.