---
Consumer prices in Colombo rose in February predominantly due to the increase in food prices, even amid the record rice harvest and surge in other domestic produce since the onset of the pandemic last year.

Inflation based on the Colombo Consumer Price Index (CCPI) was measured at 3.3 percent in the twelve months to February 2021, up from 3.0 percent in January, as prices of most food items remained elevated.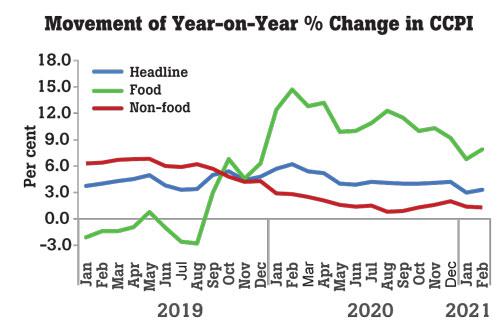 The food prices rose by 0.8 percent in February from January levels, and they also rose by 7.9 percent from the same month in 2020, higher than 6.8 percent rise recorded in January 2021.

The prices of vegetables, chicken, eggs, green gram, green chillies, fruits, canned fish and others rose, with vegetables marking the biggest increase.

Since January, prices of rice remained elevated while dried fish, coconuts, potatoes, dhal, red onions, big onions, sugar and lime prices declined. Coconut prices mostly held up between Rs.85 and Rs.120 a nut.

The slew of measures taken by the government including price controls failed to arrest the rising of food prices as cartels of middlemen wield massive power over famers and consumers.

Despite a record rice supply during both Yala and Maha seasons, prices of rice have nearly become inelastic at their elevated levels.
Meanwhile, the non-food prices slowed in February to 0.1 percent from January levels while decelerating to 1.3 percent from the same month in 2020.

Prices of all key categories under non-food price index such as clothing and footwear, house maintenance and reconstruction and transport rose at modest levels.

Meanwhile, the so-called core prices measured barring the often-volatile items such as food and energy rose by 2.6 percent in the twelve months to February, decelerating from 2.7 percent in January 2021.