---
Vehicle registrations continued to languish in January, similar to that of last few months, as the government's clamp down on vehicle imports, aimed at supporting the currency and the country's foreign reserves position, persists.

A total of 3,256 vehicles belonging to all categories were registered during January 2021, down from 4,478 in December 2020 and a pre-pandemic high of 34,475 vehicles in January 2020.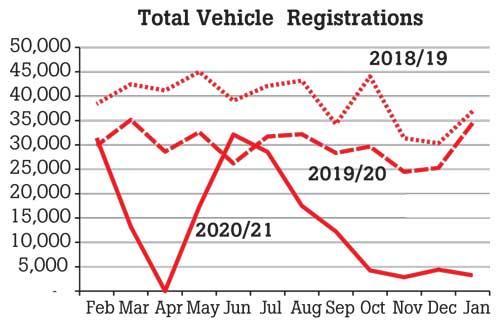 The vehicle importers last week renewed their calls for some relief on the blanket ban on vehicle imports, at least limited to certain designated sectors, such as medical, which would help them immensely to stay afloat.

According to the vehicle registration data compiled by Colombo-based equity brokerage and research house JB Securities, no ambulance was registered since November 2019 and no motor hearse was registered since July 2020.

The government is likely to maintain the import ban throughout this year or until the acute foreign exchange shortage the country is facing is rectified.

The vehicle importers claimed that around 100,000 direct jobs would be at stake, if the ban on vehicle imports continued.

According to JB Securities, only 20 three-wheelers were registered in January 2021, unchanged from December 2020 but significantly down from 1,098 registrations a year earlier.
Motorcar registrations dropped to 195 units in January, from 206 in December and 2,536 in January 2020.

Two-wheelers recorded 1,228 units in January, down from 2,178 units the previous month and significantly down from 26,588 units 12 months ago.

Meanwhile, in a new development, JB Securities noted the emergence of a new category titled "locally assembled vehicles that were previously not in the RMV
data feed".

"In the SUV/crossover segment of the 114 brand-new units registered in January, Mahindra KUV 100 accounted for 61 units, down from 72 units the previous month; this vehicle is assembled by Ideal Motors. DFSK accounted for 14 units in January, down from 55 units in December; this vehicle is assembled by Unimo," JB Securities said.