---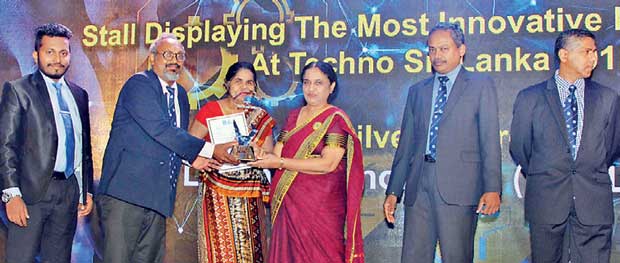 JLanka Technologies Operations Director Gunaseeli Jayasoma receiving the Silver award for the 'Most Innovative Local Product' from IESL President for Session 2017/18 Eng. (Prof.) Niranjanie Ratnayake. Also in the picture (from left): JLanka Technologies Electric Engineer Hasitha Dinumpura, JLanka Technologies Consultant Engineer Nalin D. Karunasinghe, IESL Vice President for Session 2016/17 Dr. Kamal Laksiri and IESL Council Member Prof. Ajith Dolage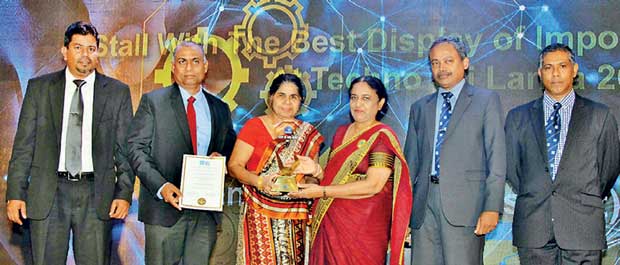 JLanka Technologies Operations Director Gunaseeli Jayasoma with the Gold award for the 'Best Display of Imported Product'. Also in the picture (from left): JLanka Corporate Marketing Head Udana Wijeweera Ilangamage, JLanka Marketing Manager Srinath Dolage, JLanka Operations Director Gunaseeli Jayasoma, IESL President for Session 2017/18 Niranjanie Ratnayake, IESL Vice President for Session 2016/17 Dr. Kamal Laksiri and IESL Council Member Prof. Ajith Dolage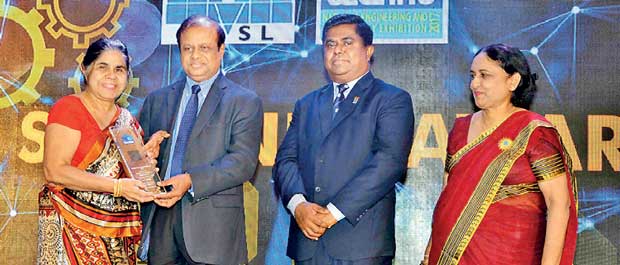 From left: JLanka Technologies Operations Director Gunaseeli Jayasoma, Chief Guest Science, Technology and Research Minister Susil Premajayantha, IESL Past President Eng. Jayavilal Meegoda and IESL President for Session 2017/18 Eng. (Prof.) Niranjanie Ratnayake
Leader in next generation energy technologies and Solar PV Systems, JLanka Technologies proved its mettle at Techno Sri Lanka 2017 by clinching two awards at the awards ceremony held at the Kingsbury Hotel in the presence of Chief Guest Science, Technology and Research Minister Susil Premajayantha.

JLanka Technologies won the Gold award for the 'Best Display of Imported Product' (SolarEdge HD Wave inverter) and the Silver award for the 'Most Innovative Local Product' (home grown fast DC Charger). Organized by the Institution of Engineers Sri Lanka, Techno Sri Lanka 2017 sought to empower innovation for sustainability through creating a platform for organizations to share their technological advancements, products and expertise whilst recognizing and honouring industry leaders for inventive products and technologies.

"Technological innovation, especially sustainable technologies such as solar power generation is already paving the way forward for a more sustainable future for humankind. This recognition is a tribute to our own contribution to this lofty ideal. Techno Sri Lanka 2017 was a timely initiative and we witnessed the impact it had on private and public sector organizations as well as academic institutes. While congratulating the Institution of Engineers Sri Lanka for this worthy effort, I would like to add that JLanka Technologies will continue to challenge the status quo by introducing further technological advancements and be a part of the solution to the impending energy crisis," commented Marketing Manager Srinath Dolage.

Since its inception in 2010, JLanka Technologies has reinforced its presence as an impactful energy technological entity as the premier solar solutions provider in the country with a longstanding reputation for quality and unmatched service in the industry. Well-equipped with an inherent capacity for innovation and close trade relationships with global solar industry giants such as Trina Solar, SolarEdge, JLanka Technologies has been providing solar power solutions to hundreds of homes and businesses throughout the country. The company continues to demonstrate its integral inventiveness and commitment to technological progress through heavy investments in research and development on optimizing home rooftop Solar PV systems in order to maximize solar power generation and intelligent smart Solar Grids as well as Energy Management Software and Metering.

To date, JLanka Technologies has installed hundreds of Solar PV systems to generate over 20MW of electricity, with an annual contribution of 21GWh of energy to the national grid.