---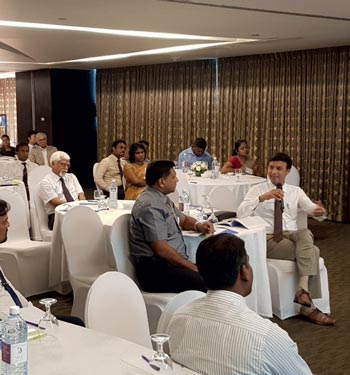 JICA, ADB and World Bank have conducted a Joint case study for their programmes and projects assistance during last 10 year period.

Objective of the exercise is to review experience of three development partners in supporting Sri Lanka as it moves towards its goal for sustainable and equitable provision of water and sanitation services to the people. The evaluation had been conducted by evaluation departments of three donors.

Feedback seminar was held on 3rd October, with the participation of City Planning and Water SupplyMinistrySecretarySarath Chandrasiri Vithana, National Water Supply and Drainage Board (NWSDB)ChairmanK.A.Ansar, NWSDBGeneral ManagerDeepthi Sumanasekara and JICASenior RepresentativeToru Kobayakawa.Senior officials ofCity Planning and Water SupplyMinistry, NWSDB, External Resources Department, National Planning Department,Irrigation Department,Mahaweli Authority,International Water Management Institute and Urban Development Authority also participated in the event.
This joint case study will pave the way for understanding synergies of donors' assistance provided during last ten years, areas where it needs more attention for successful collaborations. The seminar created a good platform for discussing how development coordination can be carried out in effective way, how SGD can be measuredtowards achieving sector goals.

Eriko Yamashita from JICA evaluation department said: "Threedevelopment partners will continue to work closely for achieving SGD six which includes Water Supply and Sanitation."