---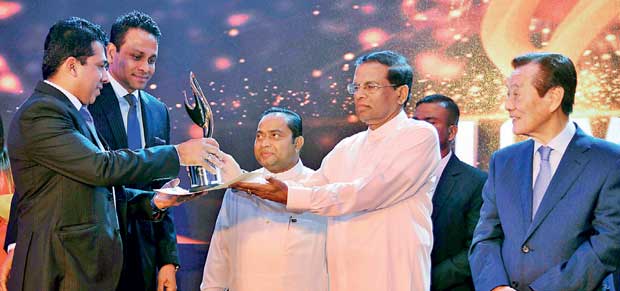 President Maithripala Sirisena presenting the award to JAT Holding Managing Director Eliyan Gunawardena, JAT Technologies Director/CEO Usantha Thilakarathna in the presence of Western Province Chief Minister Isuru Devapriya and Dr. Young Hoon Paik
JAT Technologies is a recognized award winner of Flame Entrepreneur Awards 2016 as one of the fastest growing technology companies in Sri Lanka with expertise in telecommunication infrastructure services, IT system integration, smart infrastructure solutions, audio visual solutions and finishing projects.
Established in 2013 as Ceynox Networks (Pvt.) Ltd by experienced and capable professionals in the field, JAT Technologies came into being in May 2015 with the acquisition of Ceynox Networks by JAT Holdings (Pvt.) Ltd.
Since then, JAT Technologies has been committed to develop and deliver excellent business solutions, aiming to increase end-user revenue, enhance satisfaction and provide a real competitive edge to its customers.
The customer base of JAT Technologies has expanded in a short period, which now includes large telecom operators, telco original equipment manufacturers (OEMs), government institutions and small and medium-scale enterprises.
JAT prides itself in working with and representing leading brands in each technology domain. This is in keeping in line with JAT's tradition of delivering A+ brand value and high level of service.