---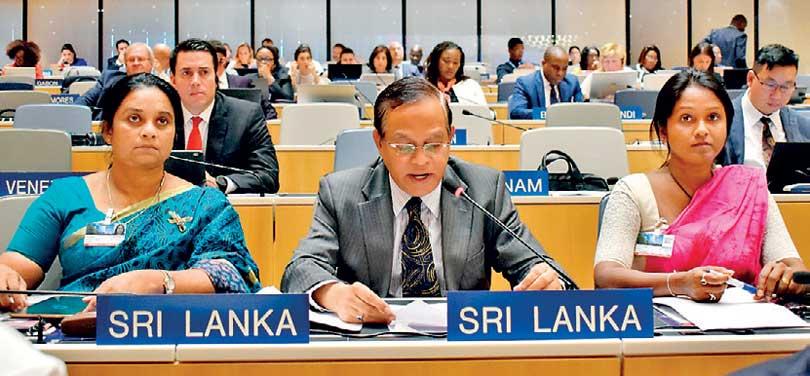 The Sri Lankan delegation headed by A.L.A Azeez (centre)
Addressing the 59th Session of the WIPO General Assemblies recently, the delegation of Sri Lanka recalled how strengthened Intellectual Property systems remained critical to the effective pursuit of economic and social development, by enabling developing countries to be fully engaged in the global economy driven by knowledge and innovation.

Sri Lanka's envoy in Geneva, Ambassador A.L.A Azeez, referred to the multifaceted work that WIPO has carried out, including through the Committee on Development and Intellectual Property, by mainstreaming its Development Agenda that effectively ensures the continued sharing of IP protected knowledge among Member States.
WIPO's norm-setting agenda, Ambassador Azeez stressed, has extended to a number of innovative areas including Intellectual Property and Genetic Resources, Traditional Knowledge and Folklore. He called upon the Inter-Governmental Committee to expedite its work to finalize international legal instrument/s extending protection for these vital intellectual assets.
Sri Lanka also expressed appreciation to WIPO for its continued assistance in the form of technical cooperation and capacity building, and updated the WIPO General Assemblies on Sri Lanka's progress in the accession process to the Madrid Protocol for the International Registration of Marks.

The delegation of Sri Lanka to the WIPO General Assemblies comprised the Director General of the National Intellectual Property Office of Sri Lanka, Geethanjali Ranawaka, Deputy Permanent Representative of Sri Lanka to the UN, Dayani Mendis, and Minister Counsellor, Shashika Somaratne.

The WIPO General Assemblies will be in session from September 30 to October 11 in Geneva.