---
LG's innovative technology has devised the Mosquito Away Smart Inverter Air Conditioner that emits an ultrasonic wave which disables mosquitoes and ensures you of a safe, peaceful and restful sleep at night.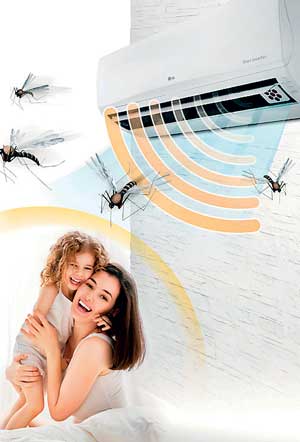 The LG Mosquito Away Smart Inverter Air Conditioner has a unique feature to protect your family from dreaded mosquito transmitted diseases such as Malaria and Dengue which cause excruciating pain and is life threatening. It is equipped with a special feature which, when switched on, generates an inaudible ultrasonic wave at a frequency of 30kHz – 100kHz which disables mosquitoes by paralyzing their nervous system (Johnston organ).

It is the best and most economical way of keeping both cool and comfortable at the same time. The efficient Smart Inverter technology boasts of powerful performance and saves up to 60 percent energy while the anti-mosquito function, which is harmless to infants and adults, saves money spent on dangerous chemical based insecticides and repellents. It's the most convenient and safe way to get rid of mosquitoes. All you need to do is push a button on your AC remote control and the device is switched on.

Conveniently, the Mosquito Away function can be turned on independently from the cooling function, helping to prevent unnecessary energy usage when cooling is not required.

Both the cooling function and mosquito repellent function of the AC does not affect humans, particularly those with respiratory illnesses. The efficacy of LG's technology has been certified by Interek, the international product testing and Inspection Company based in London, UK, and the International Institute of Bio-Technology and Toxicology (IIBAT in India, and also declared safe for use by Germany's TUV NORD while the European Commission has conferred its CE conformity mark.

A unique Gold Fin coating on the surface of the heat exchanger protects the outdoor unit from corrosion and provides exceptional durability for use in coastal areas where sea air can easily cause extensive damage. The Jet Cool function provides power cooling with strong 18°C cool air for 30 minutes. The Fresh Dry function provides quick and effective humidity control that saves energy without sacrificing comfort. LG's unique skew fan and BLDC motor technology eliminates unnecessary noise and allows for smooth operation at the lowest sound level. The Inverter Compressor carries an amazing 10 year warranty from Abans.

The innovative, first in Sri Lanka, LG Mosquito Away Air Conditioner is available at all Abans Showrooms and Abans Elite Showrooms island wide.