---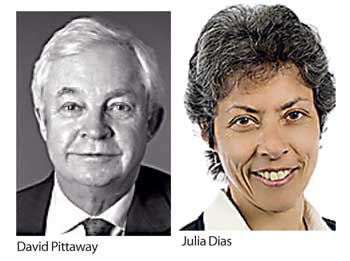 A delegation of the Honourable Society of the Inner Temple will make an inaugural visit to Sri Lanka from September 1 to 8, 2017.

The delegation will comprise of Inner Temple Treasurer David Pittaway QC accompanied by his wife, Jill Pittaway and Inner Temple Senior Bencher Julia Dias QC.

As part of this maiden visit, the delegation of the Inner Temple will address the Bar Association of Sri Lanka (BASL) on several topical issues.

This event will be hosted by the BASL in partnership with the Sri Lanka Medical Association (SLMA). The address will be held on September 4, 2017, at the Dr. H.W. Jayewardene QC Auditorium (BASL Auditorium), from 2:30 p.m. to 5:30 p.m.

The address will broadly seek to cover the following areas:

The anatomy of a case: A study of a clinical negligence action.

Challenges to respectively the appointment of arbitrators and enforcement of arbitration awards
Comparative insight into the concept and purpose of pre-trial hearings in England and Wales, in view of the fact that pre-trial hearings were recently given legislative effect in Sri Lanka by the Civil Procedure Code (Amendment) Act, No. 8 of 2017.

Inner Temple
The Inner Temple is one of the four Inns of Court. These are associations that have existed since the 14th century and play a significant role in training law graduates to qualify as court advocates, known throughout the Commonwealth as barristers. The Inns of Court have the power to 'call' would-be barristers to the Bar.

The Inner Temple has over 9,500 qualified members. Each year approximately 350 students apply to join, including those from the Commonwealth and other international countries, with the intention of training for the Bar in England and Wales. Graduates of the Inner Temple go on to practice at the Bar, take judicial office, enter the political arena, become distinguished law academics and excel in their chosen fields wherever they live.

The Inner Temple has always welcomed members from around the world. Notable alumni from the Commonwealth include: Mohandas Karamchand Gandhi, first Prime Minister of India Jawaharlal Nehru, first Prime Minister of Pakistan Mohammed Ali Jinnah, prominent Sri Lankan philanthropist Sir Ernest C. De Silva, Sri Lankan lawyer and statesman Sri Lankabhimanya Lakshman Kadirgamar, who was made an Honorary Bencher in 1995, founding father and first Prime Minister of Malaysia, Tunku Abdul Rahman and Chief Justice of Supreme Court of Singapore Yong Pung How.

Delegates visiting Sri Lanka
Pittaway QC was called to the Bar of England and Wales in 1977 and appointed Queen's Counsel (QC) in 2000. He is Head of Hailsham Chambers, London, a Deputy High Court Judge and Treasurer of the Inner Temple in 2017.

His principal practice areas are medical law, public inquiries, regulatory and disciplinary, product liability, personal injury and insurance law.

He has an outstanding practice for healthcare and other regulators on the regulatory and disciplinary process. He is frequently instructed in cases defending high-profile clients in these sectors against reputational damage.

As a leading authority on public inquiries and inquests, he has substantial experience of large-scale inquiries, including The Shipman Inquiry and The Hillsborough Inquest.

He is a Fellow of Chartered Institute of Arbitrators and an Accredited Mediator. He is instructed as an arbitrator in professional negligence claims and has appeared in mediations involving clinical negligence claims. He is a past Chairman of the Professional Negligence Bar Association.

Dias QC is a Senior Bencher of the Inner Temple and practices as a barrister at 7 King's Bench Walk (7KBW) chambers.

Dias QC specialises in the fields of arbitration, shipping, insurance and reinsurance and professional negligence, including associated jurisdictional disputes and injunctions. Dias QC also has wide practice in commercial disputes and over the years has built up considerable expertise in many other areas such as international trade and sale of goods, shipbuilding, conflicts of laws, guarantees and letters of credit and agency.

Purpose of Sri Lanka visit
The purpose of this visit is to foster and develop strong links and associations in Sri Lanka. The Inner Temple undertakes this inaugural visit with the encouragement of the Royal Commonwealth Society for the following key purposes:
To develop relations between the Inner Temple and its members in Sri Lanka
To develop relations between the Inner Temple and Bar Association of Sri Lanka and Sri Lankan judiciary
To promote the standing of the Inner Temple and its members internationally
To promote the rule of law, ethical standards and advocacy skills