---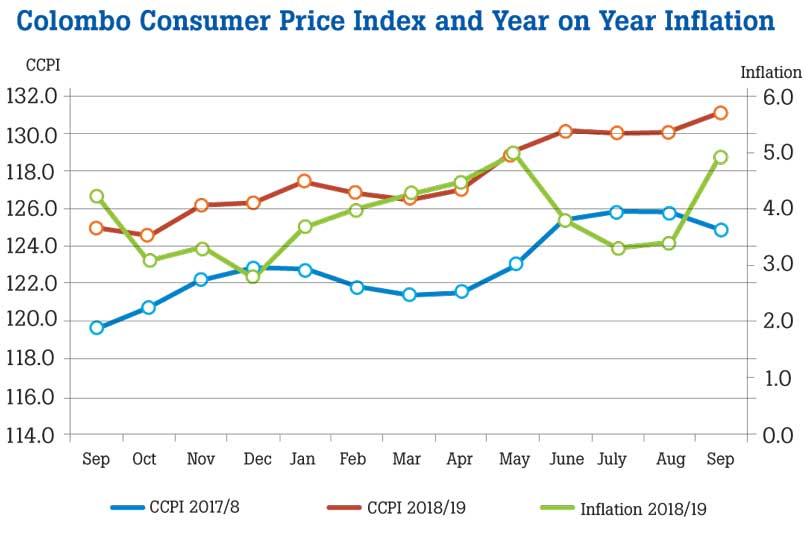 Sri Lanka's inflation as measured by the Colombo Consumer Price Index (CCPI) recorded a sharp increase in September from a year ago, as the prices of food items rose notably while the base effects too contributed adversely.

The headline inflation rose by 5.0 percent in September from the same month last year as the August inflation was 3.4 percent year-on-year (YoY).

Meanwhile, on a month-on-month (MoM) basis the headline inflation rose by 0.8 percent, substantially up from 0.1 percent increase in August.

The core inflation, which measures change in prices of less volatile items sans food and energy, rose 5.6 percent, unchanged from a year ago but expanded by 0.4 percent
from August.
The predominant factor for the September's sharp rise in the prices was the food prices which rose by 3.0 percent YoY, compared to a contraction of 2.8 percent
in August.

On a month-on-month basis, the prices rose by 2.4 percent compared to a 1.0 percent contraction in August.

The lower supply during the Yala harvesting season due to prevailing adverse weather conditions have pushed the prices of many a food items upwards in September.
Prices of sea fish rose the most in September from August while the prices of rice, chicken, milk powder, coconut, fruit and vegetables too rose.
Meanwhile, the non-food inflation rose by 5.7 percent YoY, slightly easing from 6.2 percent a month ago.

On MoM basis, the non-food prices rose by 0.1 percent, compared to 0.5 percent in August.
Prices in the transport sub-category declined but the impact was off-set by the significant increase in the education sub-category due to higher fees of international schools.
The Central Bank wants to maintain the medium term inflation between four to six percent.

The Central Bank last week ordered the banks to cut their lending rates by at least 200 basis points from their April 30 levels as the prevailing high interest rates are not justified by the current benign inflation rate.

However, the economists point out that monetary accommodation is not risk-free as it could increase corporate leverage and household debt, which could come under stress when the economy tightens.