---
Sri Lanka's industrial production, which measures the volume of goods and services produced in the manufacturing sector, showed a healthy growth in August, both against the same month in 2016 and the month before in 2017.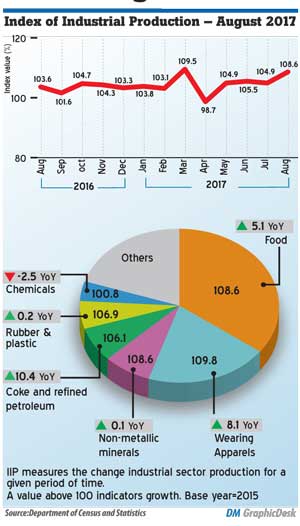 According to the Census and Statistics Department data, compiled for the month under consideration, Sri Lanka's industrial production recorded an index number of 108.6 compared to 103.6 in August 2016 and 104.9 in July 2017.

The August 2017 number is also the highest after March, which recorded an index of 109.5.
A breakdown of industries showed manufacture of food products, tobacco products, wearing apparels, leather and related products, among a host of other categories, recording year-on-year (YoY) growths. The biggest jump was recorded in manufacturing of fabricated metal products of which the index number jumped by 35.5 percent YoY

Manufacturing of coke and refined petroleum products also recorded a growth of 10.4 percent during the 12 months. Meanwhile, manufacturing of beverages in August declined sharply by 16.4 percent YoY, where the category index was 87.4. Manufacturing of furniture and chemical products also narrowed during the period. The Index of Industrial Production or the IIP is a crucial barometer of the direction of the industrial activity in the economy and a continuous ascendency indicates the country's industry base is gaining momentum creating more manufacturing jobs. However, the IIP is deeply correlated to investments, particularly foreign direct investment (FDI), which goes into setting up more factories. Sri Lanka has a dismal FDI record, with attracting less than US$ 500 into the country, last year. The current out-ward looking coalition regime is pursuing a more liberal policy on trade and investments to ramp up the industrial sector of the investment-hungry nation.

Sri Lanka's industrial sector has long been a neglected area as the country conveniently bypassed the industrialization as it chose the easy route of imports for consumption with the concessional funds it received.

But as the concessional funding ran dry, the country resorted to commercial borrowings for most of its funding requirements instead of FDIs, creating an external debt crisis.

Rigid bureaucracy and policy uncertainty have chased away potential investors in the post-war Sri Lanka.