---
Indra Traders (Pvt) Ltd Managing Director Rushanka Silva was appointed as a Director of Sampath Bank PLC last week, replacing Ranjith Samaranayake, who retired after reaching his 70th birthday.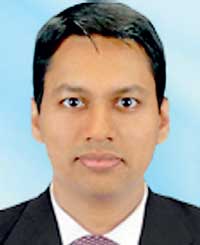 Rushanka Silva's father, Indra Silva, owns 18.6 million Sampath Bank shares, representing 9.99 percent of Sampath Bank's total shares—being the highest portion of shares an individual or an entity can hold in a bank legally without Central Bank approval. Rushanka Silva is CIMA qualified and obtained an MBA from the University of Western Sydney, Australia. He is a director of Sampath Bank subsidiary Sampath Centre Limited and numerous Indra Group companies.
He is also a director at Commercial Bank of Ceylon PLC subsidiary Serendib Finance Limited. Rushanka Silva's father also owns a significant portion of shares in Commercial Bank.