---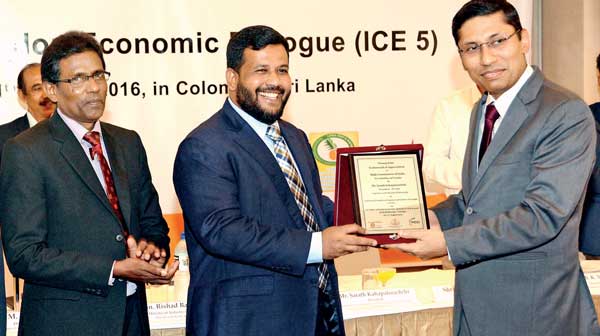 Minister of Industry and Commerce Rishad Bathiudeen (Centre) presenting a memento to Deputy Indian High Commissioner to Sri Lanka Arindam Bagchi at Indo Ceylon Economic Dialogue fifth edition. Also present in picture (far left) President of Federation of Chambers of Commerce and Industry of Sri Lanka Sarath Kahapalarachchi.
Pic by Pradeep Pathirana
by Shabiya Ahlan
As Sri Lanka and India continue to look for avenues to strengthen economic ties, latest data from the Department of Commerce reveal that trade between the two nations is nearing the US $ 5 billion milestone.

With bilateral trade currently standing at US $ 4.91 billion, the nations are only short of US $ 83 million to cross the US $ 5 billion mark.

According to Minister of Industry and Commerce Rishad Bathiudeen, the milestone would be reached "any time soon" since the annual growth rate in terms of trade between the two countries moves towards a positive trajectory. He shared that when looking at the Year-on-Year performance, last year alone the bilateral trade grew by 6.3 percent.

Noticed also he said is significant demand from India for certain Sri Lankan products during the last five years.
"This growth was driven by such Lankan products as nuts and seeds pepper boats and ships as well as our leading export brand apparels," he pointed out while addressing the fifth edition of the Indo Ceylon Economic Dialogue (ICE Dialogue-5) jointly organized by the Federation of Chambers of Commerce and industry of Sri Lanka and Federation of Indian Chamber of Commerce and Industry. In the last five years our nuts and seed exports to India increased by almost 35 times while pepper exports increased by three times to US $ 85 million.

Ship and boat exports increased by nearly three times to $57 million in 2015, while apparel exports to India doubled to $ 30 million in 2015.

The Minister professed that reducing product similarities in the trade basket and further diversifying products and services could help further enhance trade volumes.

It was also noted that alongside growth in trade value, bilateral investments too shows a positive trend. During a ten year period from 2005 to 2015, total investment from India is close to hitting the US $ 800 million mark.