---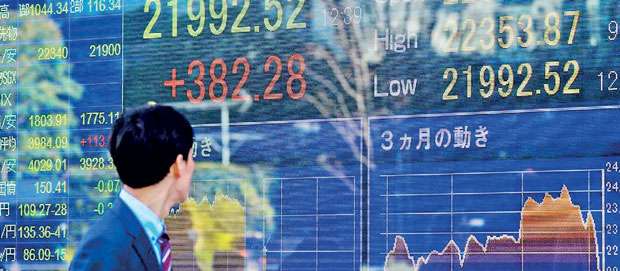 Global markets had started the week on a high, fuelled by hopes for a new Canada-US-Mexico trade pact and easing Brexit fears
Emerging market currencies sank in Asia yesterday, with the Indian rupee at a record low as dealers fear contagion from financial crises in Argentina and Turkey.

A report that Donald Trump is planning to impose tariffs on a further US$200 billion of Chinese imports as soon as next week has added to the fright on trading floors, with most equity markets across the region also down.

Forex traders have been dumping emerging market currencies after Argentina's peso became the latest to hit the buffers on concerns about the country's economy.

The peso hit a record low near 40 to the dollar Thursday despite the central bank hiking interest rates 15 percentage points to 60 percent. It has lost 53 percent of its value since the start of the year as the government of President Mauricio Macri faces a financial catastrophe.

At the same time Turkey's lira continues to face heavy selling after a deputy central bank governor resigned with the economy facing a possible recession, made worse by US sanctions. The currency has also lost about half its value this year.

The flight out of emerging market units hit India, where the rupee fell to 71 against the dollar for the first time on Friday. The embattled currency has lost about 10 percent this year.

And the Indonesian rupiah also dived, briefly hitting the 14,750 to the dollar mark seen during the Asian financial crisis in 1998.

Both countries' problems have been exacerbated by ballooning current account deficits, while a series of interest rate hikes has failed to staunch the selling in
their currencies. "The spillover from the resurfacing emerging-market turmoil in the Argentina peso and Turkish lira is weighing on EM Asia currencies," Ken Cheung, senior FX strategist at Mizuho Bank in Singapore, told Bloomberg News.

Other emerging market and high-yielding currencies were also in the red with South Korea's won down 0.4 percent, Australia's dollar 0.6 percent down and the South African rand 0.8 percent off.
Global markets have gone into reverse since Bloomberg said Trump wanted to impose the new levies on Chinese goods as soon as public consultation ends next week. The move would add to the US$50 billion already levied.

The report follows talks last week between the world's top two economies - the first on trade since they began exchanging tit-for-tat tariffs in July ended with no breakthrough and will rekindle fears of a painful trade war.

All three major Wall Street indexes ended down, with the S&P 500 and Nasdaq ending a streak of four straight days of records.

Tokyo ended marginally lower, while Hong Kong sank one percent and Shanghai lost 0.5 percent. A better-than-forecast reading on Chinese manufacturing activity was unable to lift the gloom.

Sydney fell 0.5 percent, while Singapore was off 0.2 percent. Wellington, Taipei, Manila and Jakarta were also sharply lower but Seoul rose 0.7 percent.

Global markets had started the week on a high, fuelled by hopes for a new Canada-US-Mexico trade pact and easing Brexit fears.

"One thing's for sure Sino-US trade developments are destined to be the defining feature of September's markets," said Ray Attrill, head of foreign-exchange strategy at the National Australia Bank.
"We are inclined to take the headlines that Trump is minded to announce his intentions to ratchet up tariffs on China as early as next week at face value."

Trump's latest comments come ahead of a summit between Trump and Chinese President Xi Jinping in November, with some observers saying they are part of a strategy by the tycoon to win concessions.

In early European trade London and Paris each fell 0.3 percent, while Frankfurt was 0.6 percent off.

-HONG KONG (AFP)