---
AFP: Indian tycoon Vijay Mallya, once dubbed the 'King of Good Times', was found guilty of contempt by the country's top court yesterday, after he was found to have sent his children millions of dollars.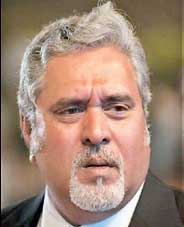 The indebted liquor baron, who co-owns a Formula One team and a cricket side, fled India in 2016 owing more than US$1.3 billion in loans to more than a dozen banks.
His creditors have been trying to retrieve the unpaid debts, which Mallya stands accused of misusing, but the 61-year-old has refused to return from Britain to face multiple charges.
The Supreme Court ruled yesterday in favour of a consortium of banks and creditors who argued Mallya had violated court orders by transferring US$40 million to his three children.
Vipin Kumar Jai, one of the lawyers representing the banks, said that Mallya had deliberately concealed his assets and withheld information from the court, leading to the contempt charge.
"The court held him guilty for contempt and asked him to personally appear before it on July 10," Jai told AFP.
The court is expected to hand down its verdict on July 10, he added.
The court was told Mallya sent his children the money after receiving a payout from British spirits firm Diageo, despite strict orders he not distribute the cash.
Diageo last year agreed to pay him US$75 million over five years as severance after he stepped down as chairman of United Spirits, a company his family owned which is now a Diageo subsidiary.