---
Singer Sri Lanka sees considerable impact in short to medium-term
Govt. extended import restrictions for 6 months starting July 2
Singer Sri Lanka hopes to mitigate impact with its local manufacturing footprint
Urges policy consistency from govt. to expand local production operations
The State-imposed temporary import restrictions are likely to have a considerable impact on Sri Lanka's consumer durables market over the short-to-medium term, says Singer (Sri Lanka) PLC.

"A key risk we foresee over the short-to-medium term is the temporary import restrictions imposed by the government, which are likely to have a considerable impact on the consumer durables market," Singer Group CEO Mahesh Wijewardene told shareholders in the company's latest annual report.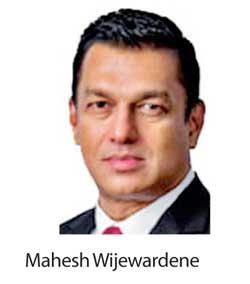 The government recently extended import controls on a wide range of goods including consumer durables by a further six months commencing July 2 to limit foreign exchange outflows from the country.
According to latest Central Bank data, import expenditure on home appliances in the month of May fell over 25 percent from a year ago to US$ 10.2 million while for the five-month period it fell 10 percent to US$ 76.7 million.

However, Singer noted that the group can mitigate this impact to a certain extent given its local manufacturing footprint. "We are somewhat insulated from these restrictions and are in a strong position to capture market share," Wijewardene said.

The consumer durable sales were on path to recovery from the Easter Sunday attacks April last year, with the industry showing a strong momentum from November up until this February backed by tax concessions introduced by the new government

However, Singer noted that the recovery was hampered by the outbreak of the COVID-19 pandemic resulting in the disruption to retail sales, collections of trade and hire purchase debtors and lease instalments, leading to increase in provisioning for impairment of debtors.

The group believes the current slowdown in consumer spending would impact the sector in the short term.

In the quarter ended March 31, 2020, Singer saw its revenue declining by 9 percent year-on-year to Rs 12.16 billion.

"For Singer, key risks stem from the slowdown in consumer spending, particularly given the impacts on disposable income," Wijewardene noted.

In addition, the drastic slowdown in tourist arrivals and worker remittance inflows also pose medium term risks to the sector.

Wijewardene noted that COVID-19 crisis has amplified collection risks with customers delaying/defaulting payments, which in turn, impact the group's liquidity position.

Despite the negative impacts stemming from COVID-19, the group said it plans to capture opportunities arising from the pandemic.

"New ways of working and living have also offered us several exciting opportunities, which we are aptly positioned to capitalise on. For instance, online learning solutions introduced by educational institutions have driven demand for laptop computers and smart phones while customers have demonstrated increased preference for large capacity refrigerators," Wijewardene elaborated.

Further, he noted that the demand in the months immediately following the easing of restrictions have been above expectations. "We look forward to a gradual recovery of economic activity over the next few months," he added.

As the group plans to widen its local manufacturing footprint through diversifying into related products, Wijewardene urged the government to adopt a robust policy framework to facilitate such investments.

"Policy consistency is an important prerequisite in ensuring the commercial sustainability of such a venture, and we urge the government to adopt a robust policy framework thereby creating conducive environment for such investments," he said.

For 2019/2020 financial year, the group delivered 11 percent YoY growth in profit-after-tax to Rs.427.3 million on Rs.54.7 billion revenue, maintaining its market leadership.

In the period, home appliances sector regained its top position to become the largest revenue generator for the group while the revenue from IT products segment declined from Rs.19.4 billion an year ago to Rs.14.4 billion mainly due to the decrease in Huawei smartphone business due to US-China restrictions.