---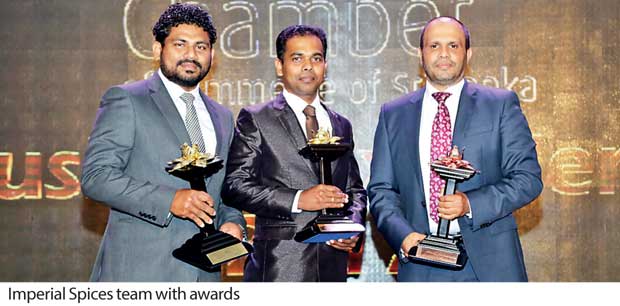 Imperial Spices, a leading exporter of spices, was presented with the much coveted Gold award for Excellence in Business and Financial Results and Export Sector (Large Category) and a Silver award in Large category at the National Business Excellence Awards Ceremony 2017 organised by the National Chamber of Commerce of Sri Lanka.

This achievement is a reflection of many successful programmes implemented by the company recently, such as venturing into new markets, maintaining quality consistency, investing in new machinery, enhancing production capacity and processing of value added products. With a constant focus on improving the quality of products, Imperial Spices is moving forward gaining access into international markets. The company's rapid growth has created a lot of job opportunities.
Cinnamon, black pepper, white pepper, clove, nutmeg, Garcinia and Areca-nut are prominent among the exports portfolio of Imperial Spices.

As a key player in the spice trade with a high demand overseas, the company exports its products to several countries including United States of America, India, Middle East and Europe. Commenting on the achievement, Imperial Spices Director Kolitha Weerakoon said: "I am particularly happy and proud to have been able to contribute to the national economy as a major player in the exports sector. All employees of Imperial Spices have contributed greatly to this achievement."