---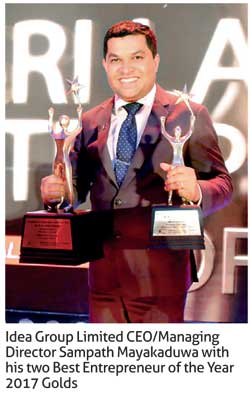 Idea Group Limited CEO/Managing Director Sampath Mayakaduwa was conferred with two Gold awards at the 22nd edition of the Best Entrepreneur of the Year 2017 awards ceremony held at the BMICH, organised by the Federation of Chambers of Commerce and Industry of Sri Lanka (FCCISL) with the gracious presence of President Maithripala Sirisena as the chief guest.

Mayakaduwa emerged victorious by winning the two Gold awards for the Provincial Gold award (Extra Large Category – Western Province) and National Gold award (Extra Large Category).

The Best Entrepreneur of the Year awards ceremony is held annually to recognize and award entrepreneurs who excel in their endeavours in a unique manner. At this worthy cause, entrepreneurs are recognized in four categories as Best Entrepreneur of the Year, Best Female Entrepreneur of the Year, Best Young Entrepreneur of the Year and Entrepreneur of the Year with Best Potential.

Mayakaduwa is a creative entrepreneur and a charismatic individual who endeavours on diversified businesses with a strong passion towards introducing innovative products to the Sri Lankan marketplace. As his first embark on the business arena, he started developing software apps as a business with Rs.2000 he had in hand.
Admired by his innovative solutions, Tigo Phone Company obtained his services and became one of his loyal customers. To provide comprehensive service to his existing and potential customers, he commissioned his maiden company, Idea Holding Private Limited in September 2008.

Along with the steady development in his software business acquired through provision of innovative software, in 2012, he diversified his business periphery to unveil the 'Sivilima' network of showrooms.

With the lapse of a short period of nine years, Idea Group of Companies has developed into a successful conglomerate comprised of 20 subsidiaries and assets over Rs.5000 million. Continuing its journey to success as a socially responsible business, Sivilima provides domestic and commercial markets in the country with an array of green-oriented products.

Idea Group of Companies is the proud owner of technical plans of the Sivilima product range owning 42 patent licences. Moreover, the factory situated in Katana is the largest factory in South Asia that produces ASA Polymer roofing sheets.

Also, Mayakaduwa holds the ownership of the biggest company in Sri Lanka that produces accessories for doors and windows and the largest showroom network of Sri Lanka, which amounts to over 400 Sivilima showrooms throughout the island.

The Idea Group of Companies contributes immensely towards eradicating unemployment by providing employment opportunities and currently has direct and indirect workforce of 2500 serving in its diversified business.

Mayakaduwa has also written the popular book titled, 'Mudal Aakarshanaya' (Money Attraction) in 2009 and besides contributed towards mitigation of the destruction of the forestry by introducing optional green- oriented products. Company's core competency of introducing environmental friendly and top-quality products to the marketplace is noteworthy.

Mayakaduwa has a policy of recruiting youth who have completed their university education as employees for his diversified business. The diversified group of companies has a unique culture that sheds light on producing innovative products. At present, the Idea family is focused on achievement of the sales target of Rs.10 billion for the year 2018.

Continuing its journey to reach the pinnacle of success, the Sivilima brand of Idea Group Limited was also conferred with the 'Best Innovative Brand of the Year' Gold award at the 16th SLIM Brand Excellence 2017 by surpassing five innovative and leading brands in the country nominated to clinch this award.

Idea Group of Companies that offers customers a 'total solution' for roof thatching, being a diversified business, also deals in hospitality trade and construction and information technology spheres in this country.