---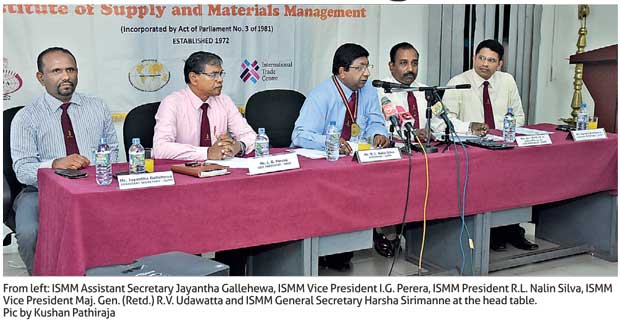 By Harshana Sellahewa
The Institute of Supply and Materials Management (ISMM) is celebrating its 45th anniversary on par with a full-day international seminar, under the theme 'Leveraging supply chain management to enhance sustainability', on October 24, at The Kingsbury Hotel.

Founded in 1972, the ISMM was established to foster the professional development of the purchasing and supply functions in Sri Lanka. The institute is currently headed by ISMM President R.L. Nalin Silva.

Speaking at the media conference of the event, held at the ISMM auditorium in the Organisation of Professional Associations of Sri Lanka (OPASL) building, ISMM Vice President Maj. Gen. (Retd.) R.V. Udawatta stated, "I'm sure, considering the enormous experience and exposure of the session chairmen and guest speakers, it will be of immense benefit to all the participants. So we have invited all participants from overseas and local to make this opportunity to enhance their knowledge background on supply chain management because this is going to be a golden opportunity and I think for this year, this is one of the premier seminars in this region on supply chain management."
Also commenting on the occasion, ISMM President R.L. Nalin Silva stated, "The largest retailer, Ali Baba, does not have a retail shop; the largest media provider, Facebook, does not have any contacts; the salmon fish caught in Scotland is sent to China for slicing and packeting, sent back to Scotland for sales. Now the companies do not hire people, they outsource and this is why we have to develop and take the supply chain and material management to the next level in Sri Lanka and across
the world."

The ISMM is affiliated to the International Federation of Purchasing and Supply Management, which is the world body encompassing 48 national associations having more than 250,000 professionals engaged in purchasing and supply chain management.

The Government of Sri Lanka recognizes the corporate membership of the ISMM with three years experience in an executive capacity as equivalent to a First or Second Class Honours Degree relevant to the field of supply chain management awarded by a recognized university.

The ISMM's vision is to be the most sought-after professional institution in the field of procurement and supply chain management in the region.